Updated on April 7, 2021
It's easy to overlook a belt when you're putting together an outfit. Sometimes, it even disappears under your shirt. What if I told you that you don't even need to wear genuine leather belts anymore. That's right, we have the technology to create and manufacture cruelty-free, vegan leather belts for men, and I'm here to tell you all about them. Without further ado, here are the best men's vegan belts for any occasion.
The following post contains affiliate links, meaning that we get a small percentage of your purchase with no additional cost to you!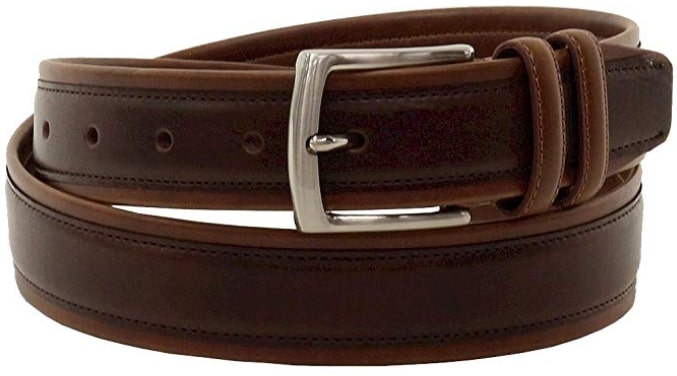 This vegan men's belt from Nautica is made from 100% faux leather and has a classic single-prong loop buckle. It's simple and subtle two-tone design is the perfect touch for any setting or style. Business casual, casual, formal or dress, this belt is extremely versatile and makes you look handsome as hell. Check out their other color options.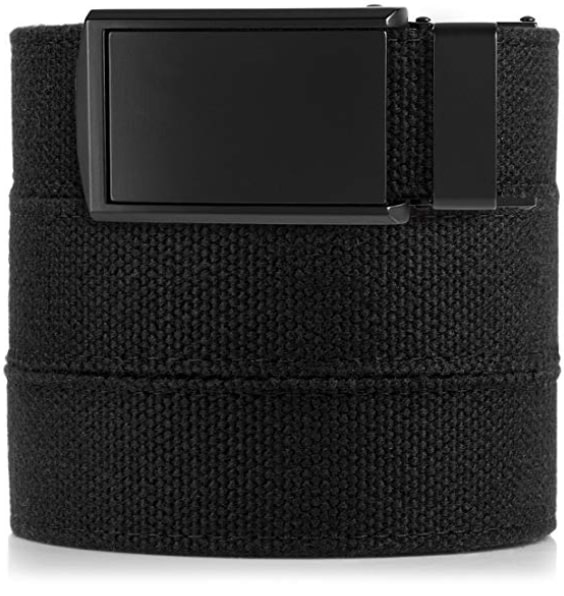 This is one of the many SlideBelts in this list, as it is an amazing belt that I have been using for years, and I am completely sold. Made from nylon and aluminum, this comfortable no-hole ratchet belt means that you don't need to fiddle with loops and tongues to awkwardly put on a pair of pants between two sizes. It fits perfectly every time. It not only looks great with any style, but it's also completely vegan!
I had to include a braided belt in this top 10. This belt from DG Hill is probably the best vegan belt for men that you can get in this style. Extremely flexible and made from elastic and faux leather, it's comfortable and come in sizes that fit almost anyone, going up to 45″. The perfect belt for work and casual wear. Comes in various colors, such as black, navy blue, brown, gray or khaki.
The Vegan Collection's Julian belt is reversible from black to brown with a classic belt loop and swivel tongue. Made from synthetic microfiber, this faux leather belt is completely vegan and have a simple measurement based on pants size, meaning that the belt size fits your pants size. This luxury vegan leather belt for men is a perfect addition to your wardrobe and is great for any occasion, wedding, graduation, date, job interview, you name it!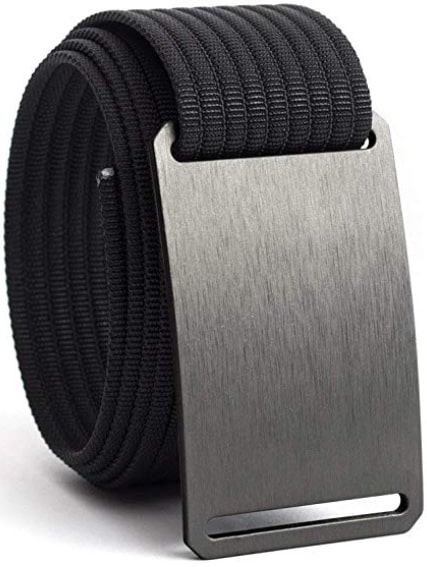 GRIP6's belt is a web belt, without holes, flaps or pinch. This means that it slides and adjusts with a strong friction lock and tightly remains on your waist as long as it needs to. This 100% made in USA vegan belt has a sleek look and is very comfortable even though it's made from nylon and aluminum. To back up their design and construction, they offer a lifetime guarantee any time for any reason.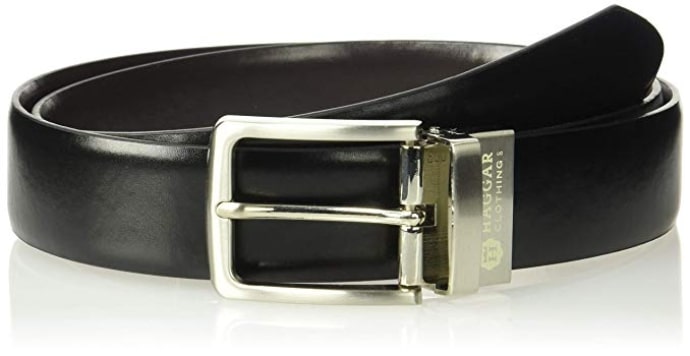 Haggar's belt has the classic belt look while being 100% vegan. Made from polyurethane, this reversible belt allows you to transition your style from casual to formal in a single wrist movement by going from black to brown. It's the perfect everyday belt for the vegan man. Unlike leather, you can wash this belt with water without fear of damaging it.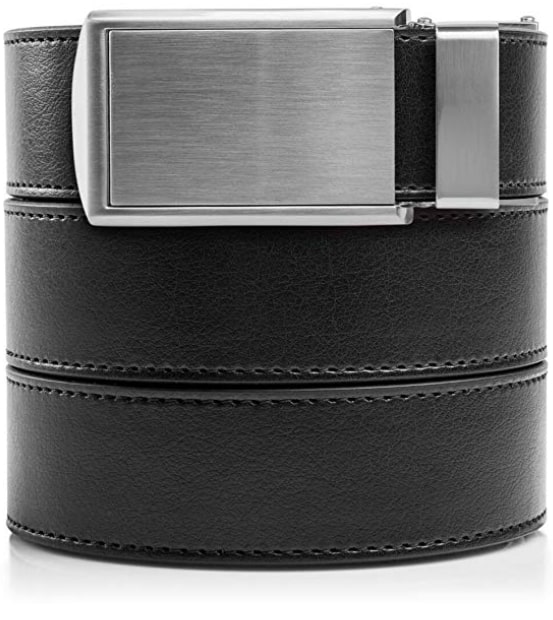 SlideBelt thoroughly understood the problem with belts and remedy to the inconvenience of having holes in your belt by offering a no-hole alternative. Not only this ratchet belt allows you to fully adjust it on your waist as you see fit, but it is also completely vegan. Made from animal-friendly vegan leather, this belt is a vegan man's gift.
The Vegan Collection's Alexander belt is, as the company name says, completely vegan and stylish as hell. Made from high-quality synthetic microfiber that acts as faux leather, this vegan belt for men is reversible from black to brown and is a perfect accessory for formal and casual wear. Reversible belts allow for greater versatility in your wardrobe and can suit any style by only switching the belt's side.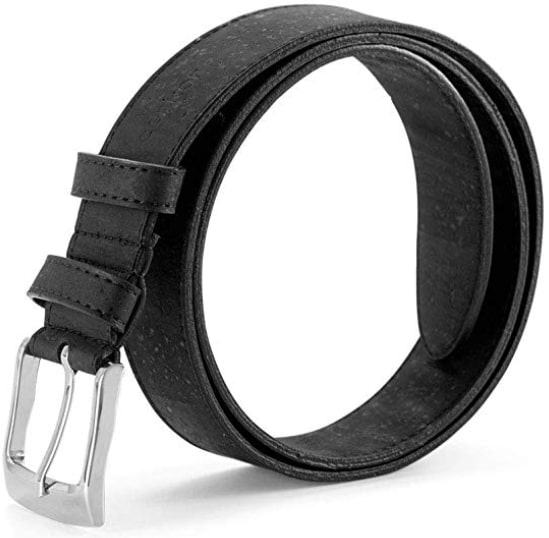 You can't go wrong with Corkor's cork dress belt. Made from genuine cork, this everyday men's vegan belt is great with any wardrobe. You can wear it during any occasions, formal, business casual, smart casual, anything goes. Cork is an extremely strong and durable material that allows unparalleled flexibility and comfort in a belt. They offer a 2-year manufacturer warranty on defects and such. Check them out!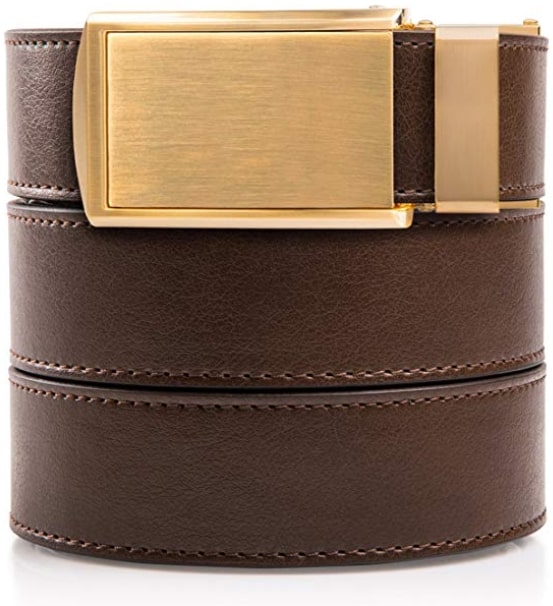 Extremely comfortable fit from this SlideBelt's classic brown belt with a golden buckle. It has no holes for a seamless look, and is adjustable with a ratchet action, meaning that you get the perfect fit on your pants every time. No more choosing between two sizes that don't really fit that well. Made from stylish faux leather, this luxury men's vegan belt is sure to catch some eyes. Various sizes, going up to a 48″ waist
---