Updated on April 7, 2021
The selection of vegan men shoes is steadily growing with every year. Most shoes on the current market are made of leather, nubuck and suede made from real leather. However, there are various brands across the world that manufacture sustainable and animal-friendly shoes, which are made with utmost precision by skilled experts. These shoes are ethically made from vegan leather which can compete with any leather shoe produced anywhere in the world in terms of quality and appearance. Wearable for many different occasion, such as  in a marriage, graduation, work party, and black-tie events, vegan dress shoes are a must-have item in your formal shoe collections.
This particular post will be focusing on vegan dress shoes. We will look at companies offering vegan leather shoes, or faux leather dress shoes, as they call it in the milieu. We thrive to offer the absolute best to our readers, to help them find their next pair of non-leather dress shoes, so we hope that this list helps you with your choices. Without further ado, here are the best vegan dress shoes for men of this year, categorized by company.
The following list contains affiliate links meaning that we earn a small commission if you buy through these links without any additional cost to you. The product ratings are the personal opinions of the authors and does not reflect the quality of the product nor the opinions of other visitors on said products.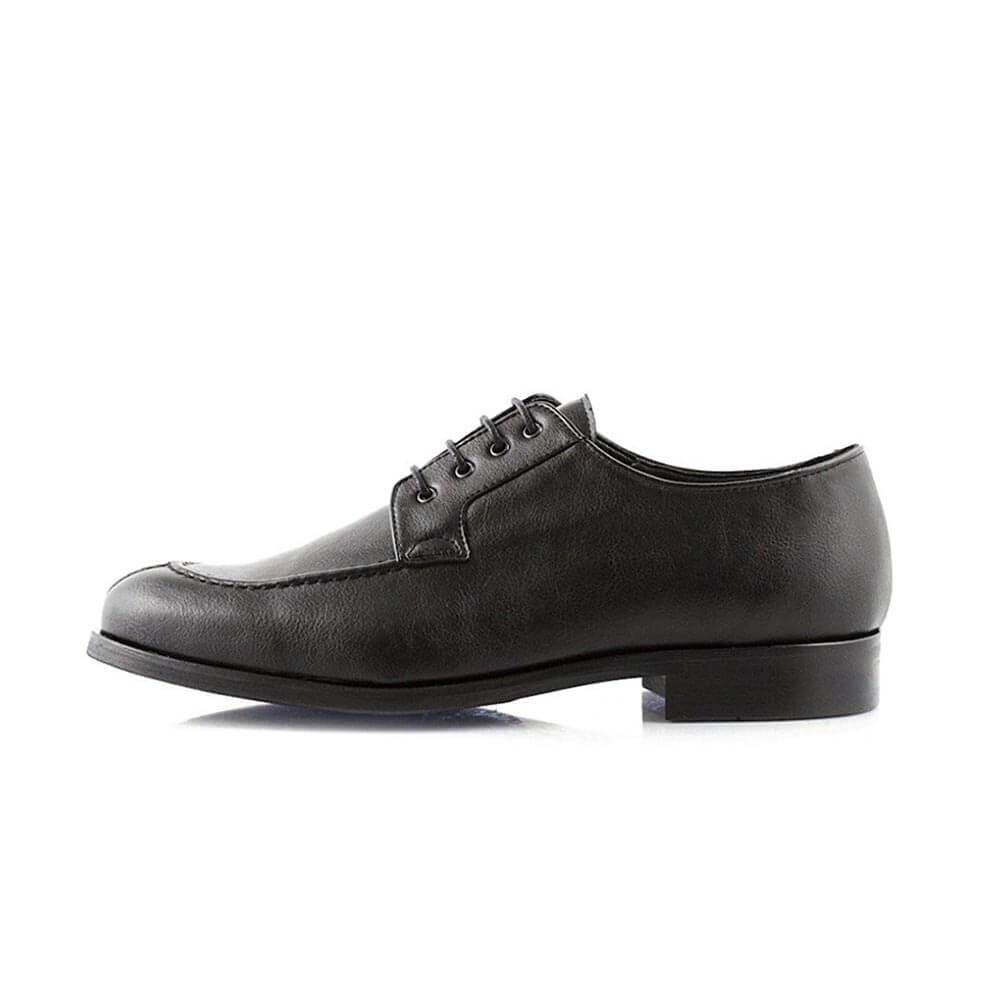 This dapper shoe is carefully produced using animal-free materials in Portugal. Johnny is the ideal casual wear shoe for men: its design inspired from the classic British men's Derby. Free from any unethical manufacturing process and harmful chemicals, this dress shoe is the quintessential vegan footwear for all men who are ethical, animal lovers and conscious about the environment. Perfect with denim or trousers, Johnny has a specialty of its own in the form of a split toe seam, which lends it a vintage feel.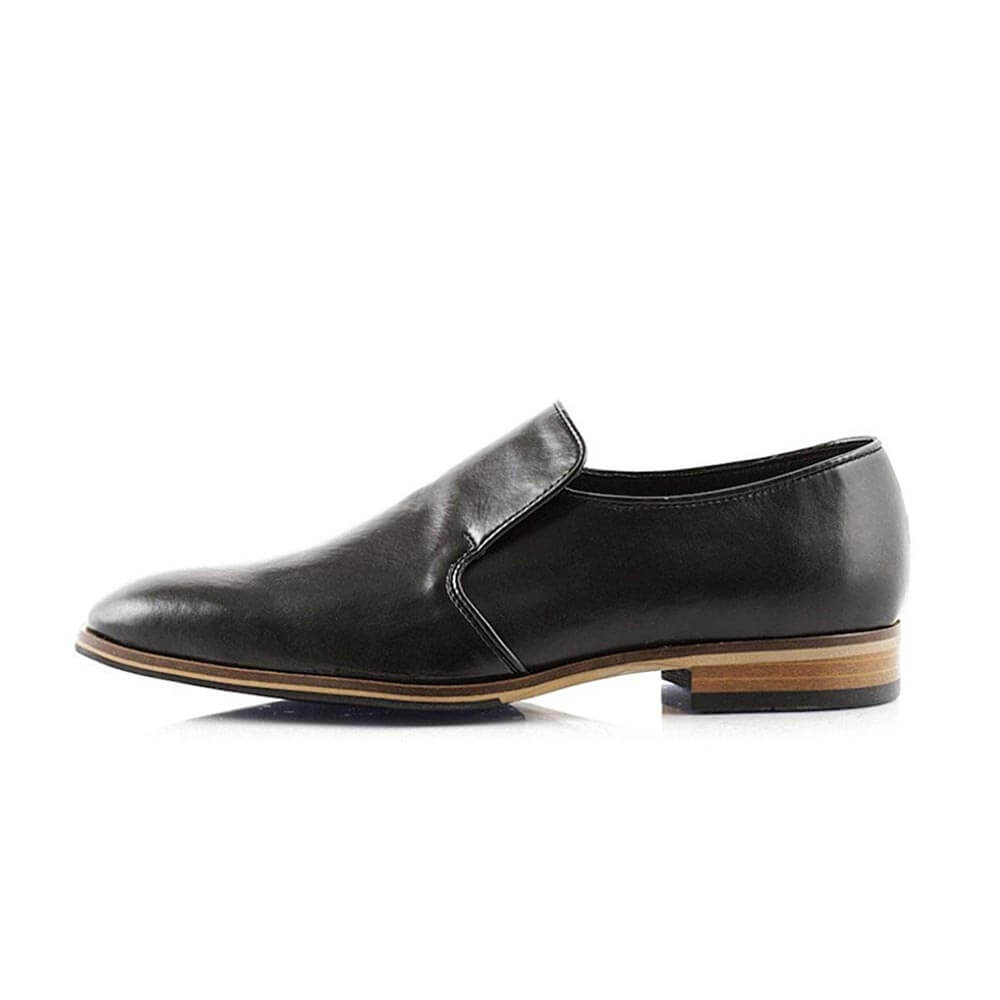 Handcrafted in Portugal, Russell represents Italian luxury at its peak with its fuss-free upper easy to slip-on and a sleek, wooden heel. A brand-new addition to BB' s collection, this vegan dress shoe is available in pitch black and has a comfortable latex insole, made using eco-friendly, natural and vegan materials. It does a great job combining the classic Chelsea boot with a slip-on loafer.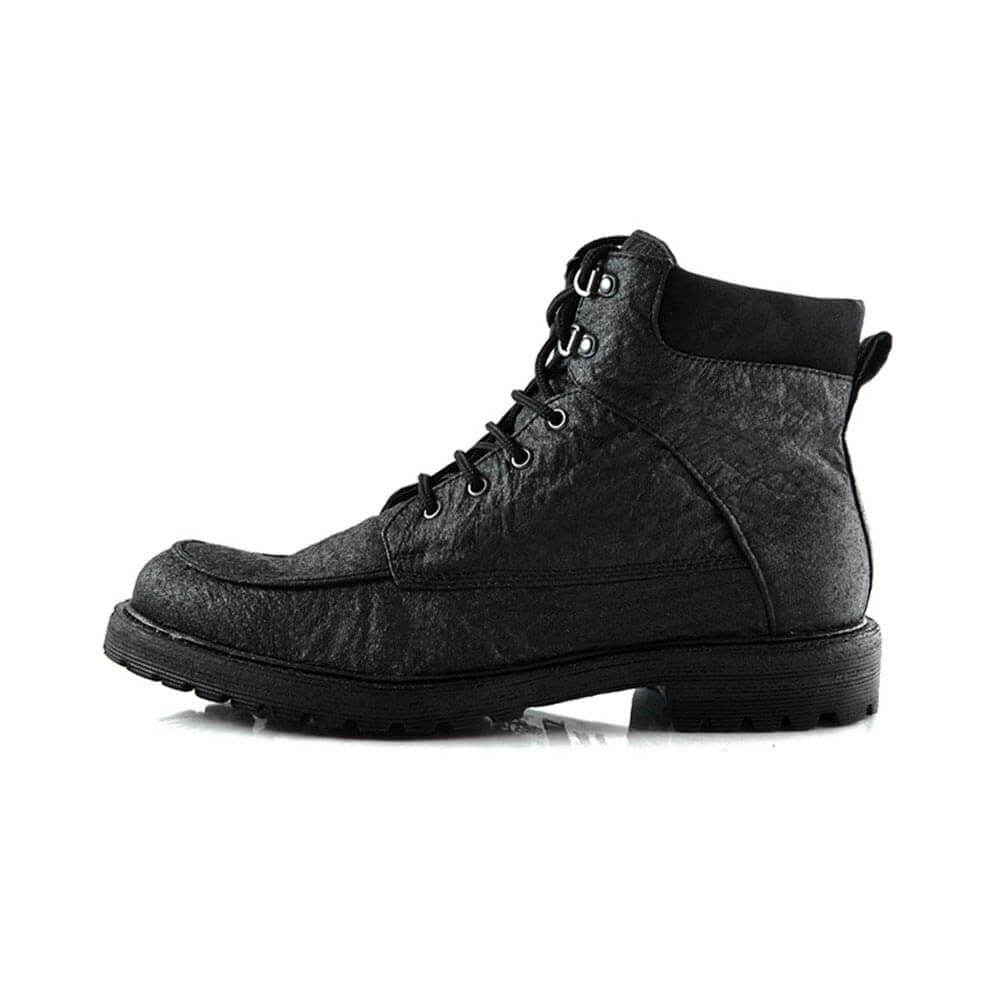 Weighing three pounds, Charlie Brown as the name indicates, is the quintessential British footwear known for walking the cobbled pavements and sprawling, lush fields and parks. Ethically made from Piñatex, a pineapple leaf fiber extract and provided with breathable lining from seed based poly-oils, these rugged boots are perfect for a chic, hiking-inspired city look, fusing vintage fashion with today's style.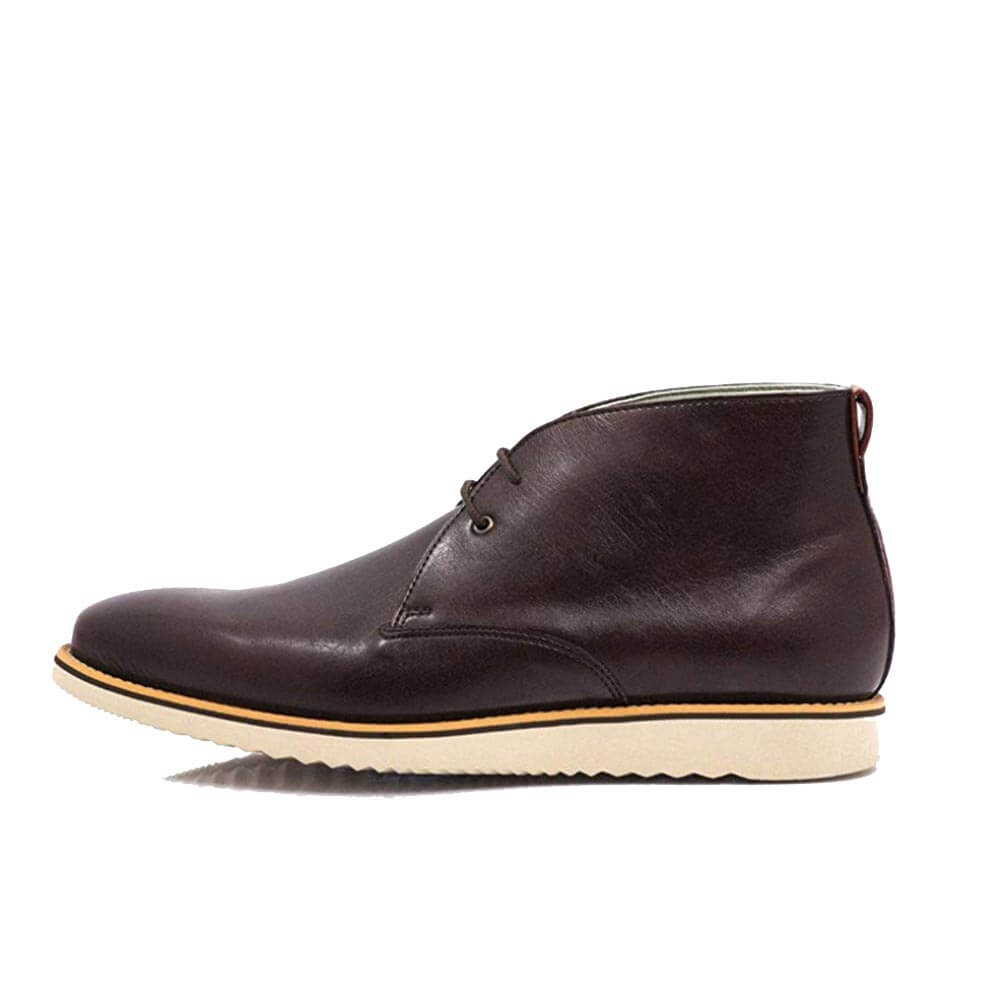 This urban hipster vegan dress shoe goes by the name Luke and is a smart choice with off-duty jeans and cargo denims. It has an athletic finish and suffices as a minimal desert boot. With a white sole, it has a superb mocha color that comes with a contrasting neutral and brown rand. Made with vegan leather and microfiber, it has a water resistant upper and natural latex insole for maximum comfort.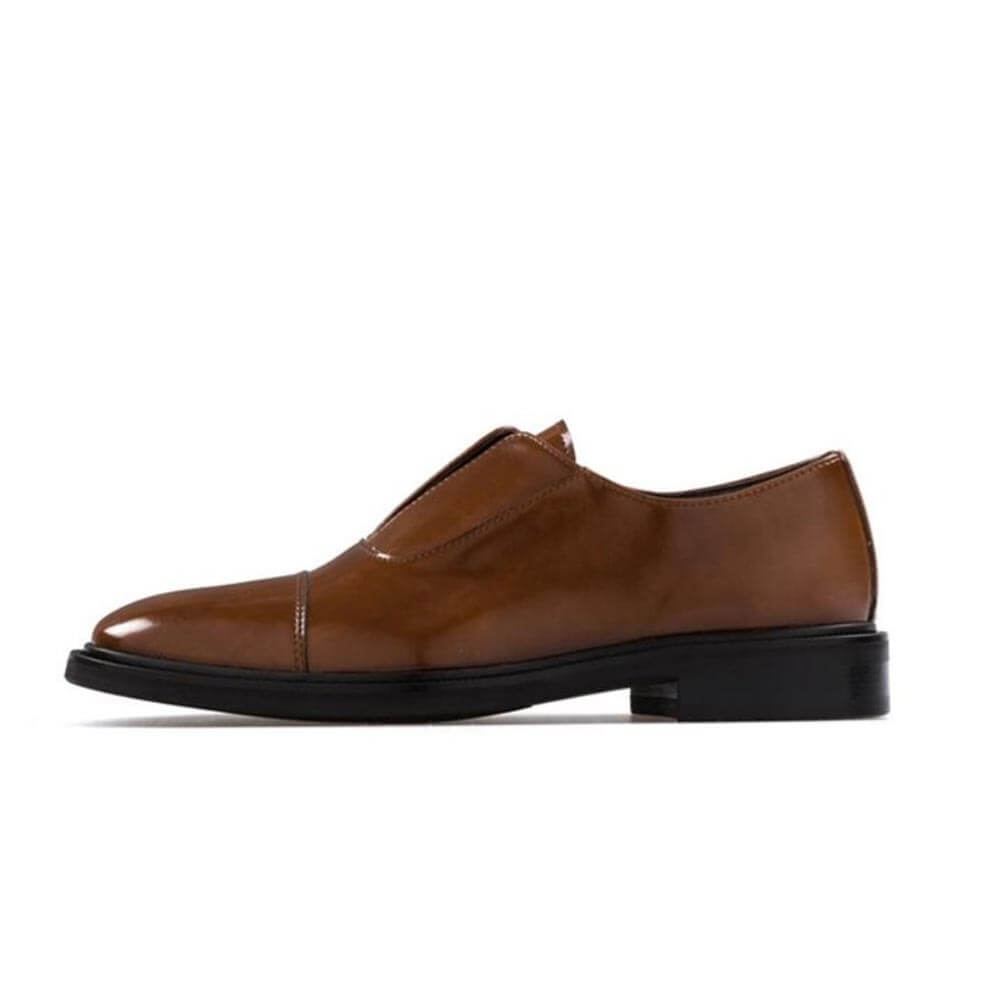 Available in colors black and tan, Anthony is Bourgeois Boheme's contemporary take on a classic. Anthony is made using the finest quality eco-friendly Italian faux leather. It has a simple design and sleek silhouette along with an easy slip-on and off elastic panel. Handcrafted in Portugal with heels measuring around 2.5 cm, this dapper shoe is a perfect choice for any look and occasion.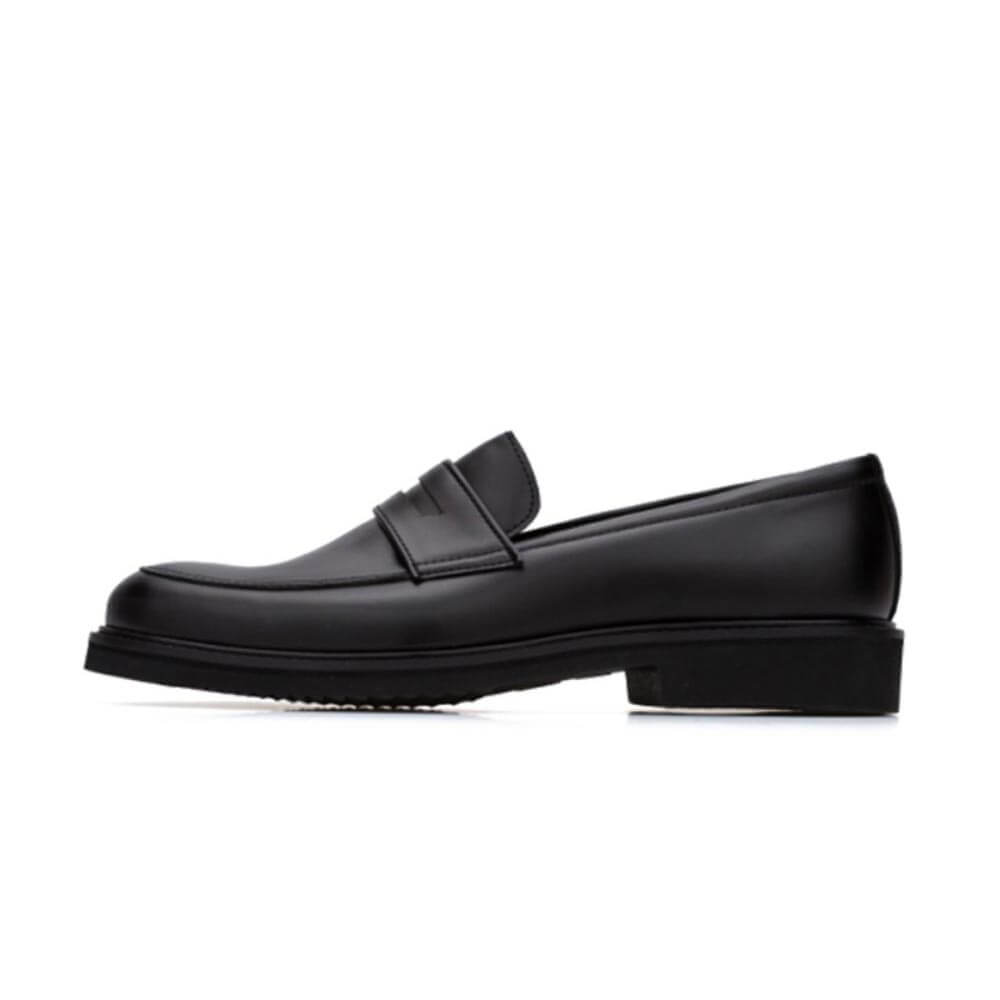 This vegan slip-on dress shoe is the newest addition to BoBo's footwear range. Richard as it's named is a smart and casual loafer with a timeless, classic design that is perfect for formal and laid-back attires alike. Available in the regal color of navy suede and made with PVC-free vegan leather, Richard is a style staple and a style statement, both at the same time.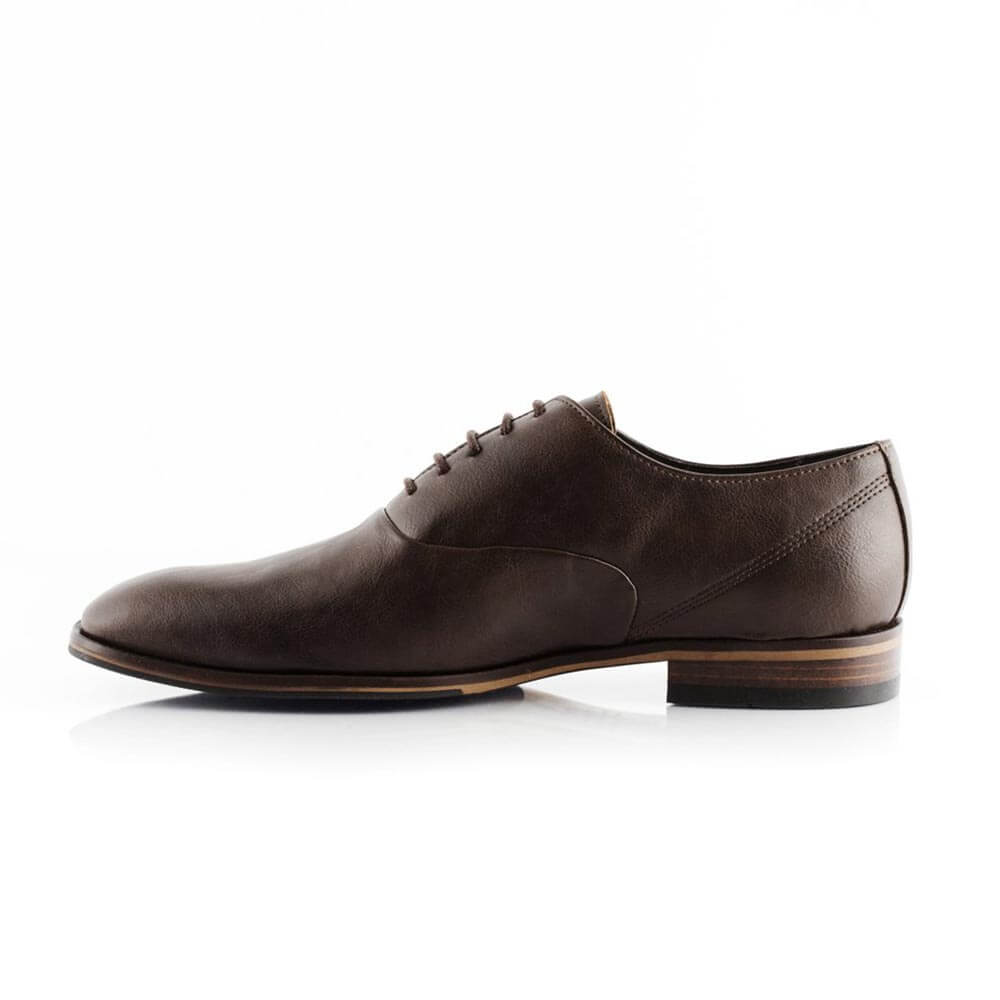 Made with the finest quality Italian faux vegan leather, these elegant and dapper Williams are perfect for any work or formal occasion. Handcrafted in Portugal with unique streamlined and asymmetric design elements, one can never really go wrong with these classic William Oxfords. These Oxfords have natural latex insole for comfort and soles made of rubber and cork, and have a 1 cm heel.
These Signature Brogues are made from plant-based vegan Italian leather which is produced from cereal crops in Northern Europe to create bio oil in a carbon neutral process. Designed with breathable and water-resistant materials, these dapper Brogue medallions come in dark cherry colors and an intricate weave print. Will's Vegan dress shoes have a dark brown heavyweight soles and recycled rubber insoles that are compact and long lasting.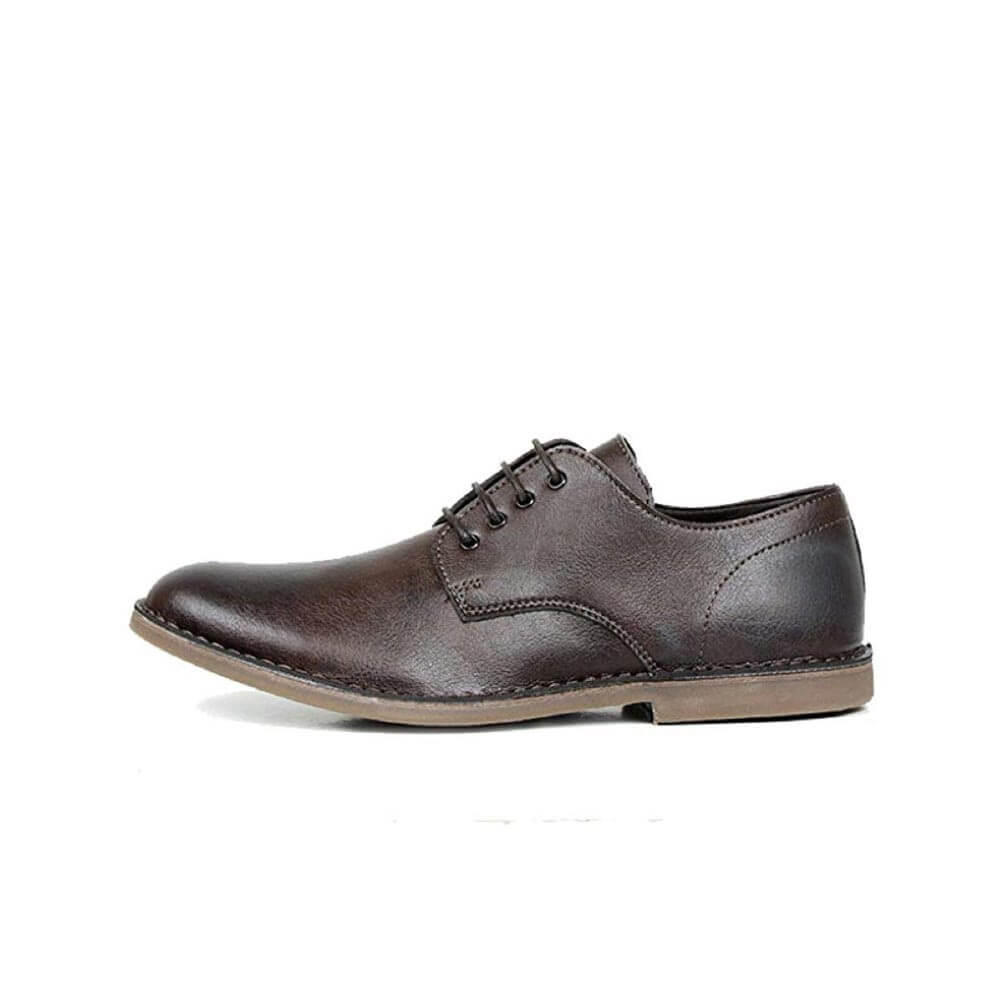 These vegan casual derby shoes are ideal for any weekend and fun activity. Made ethically in Portugal with PETA-approved vegan materials, they have water resistant and breathable micro leather uppers with strong and durable soles. Designed intricately with tonal stitching and laces, along with metal lace tips and latex insoles, they ooze style and elegance. These dress shoes also have a round toe size and regular width, and a soft breathable lining.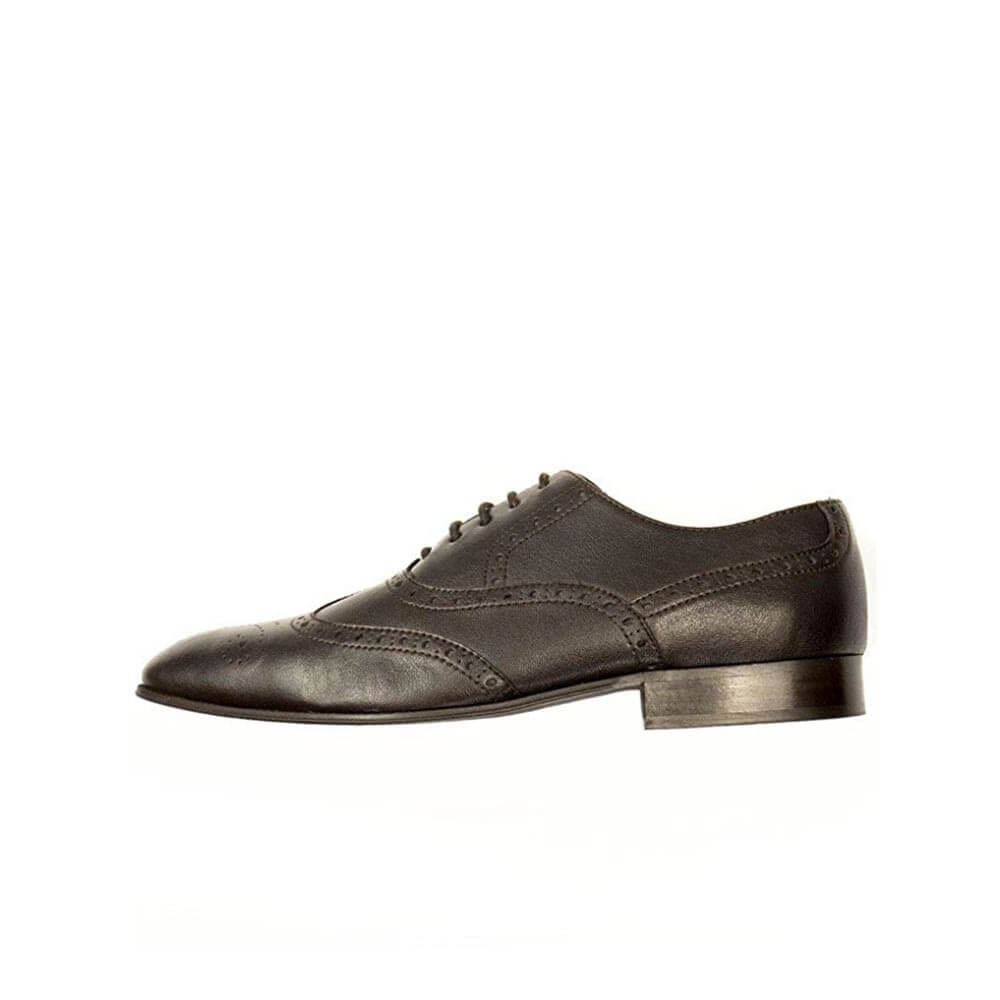 Ethically produced in Portugal following EU health and safety regulations, these are classic wingtip brogue Oxfords with a closed lace-up front. Designed with water resistant and breathable materials, its cushion-y, hard-wearing soles are made with recycled rubber, giving it a sleek stack effect. The uppers and linings of these vegan dress shoes are crafted using organic bio oils, created in a carbon free neutral process. The shoe comes packaged in a sustainable, eco-friendly cardboard box.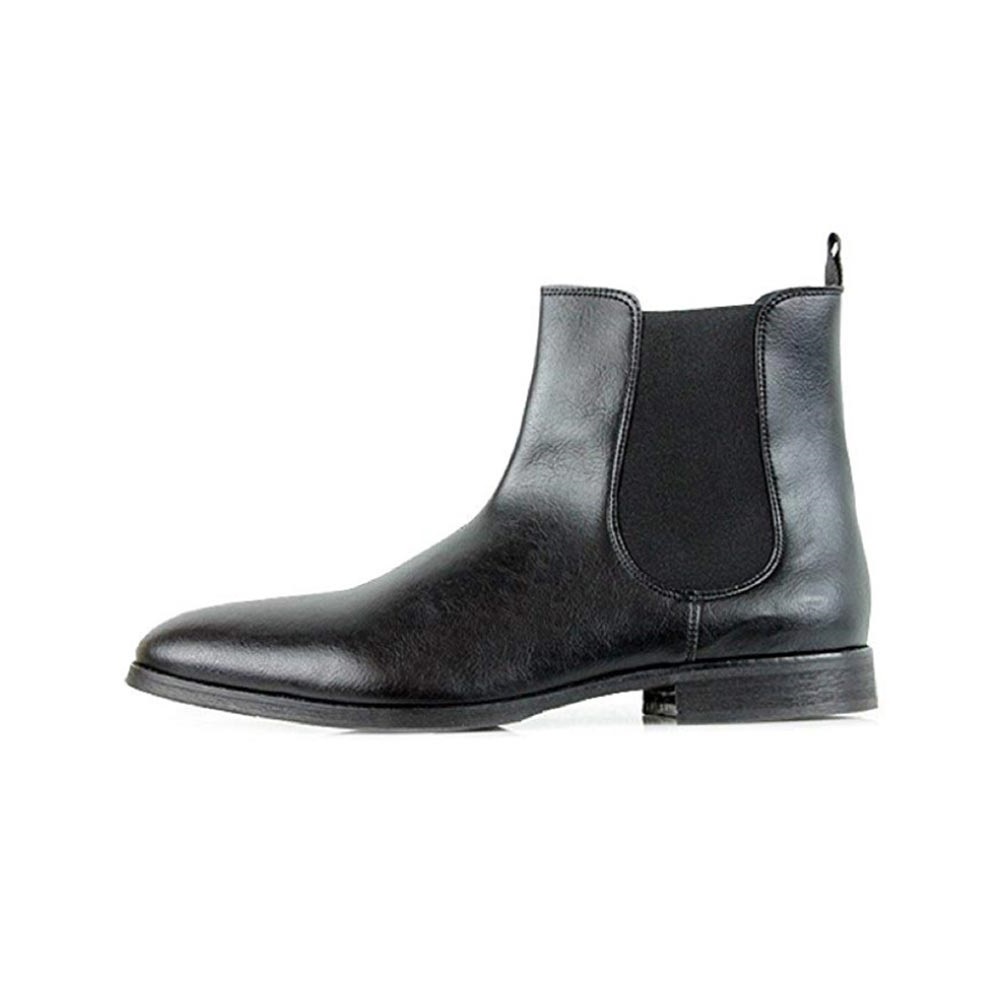 This sleek and vegan Chelsea dress boots is made of finest quality Italian faux leather with polished, microfiber uppers and slim soles. Resistant to water, Chelsea boots have a soft and airy lining with hand stitched latex insoles. With a tapered round toe size and regular width, they have an intricate stitching detail with side gussets in toned, stretch fabric. With durable soles, they are ethically produced in Portugal with approval from PETA.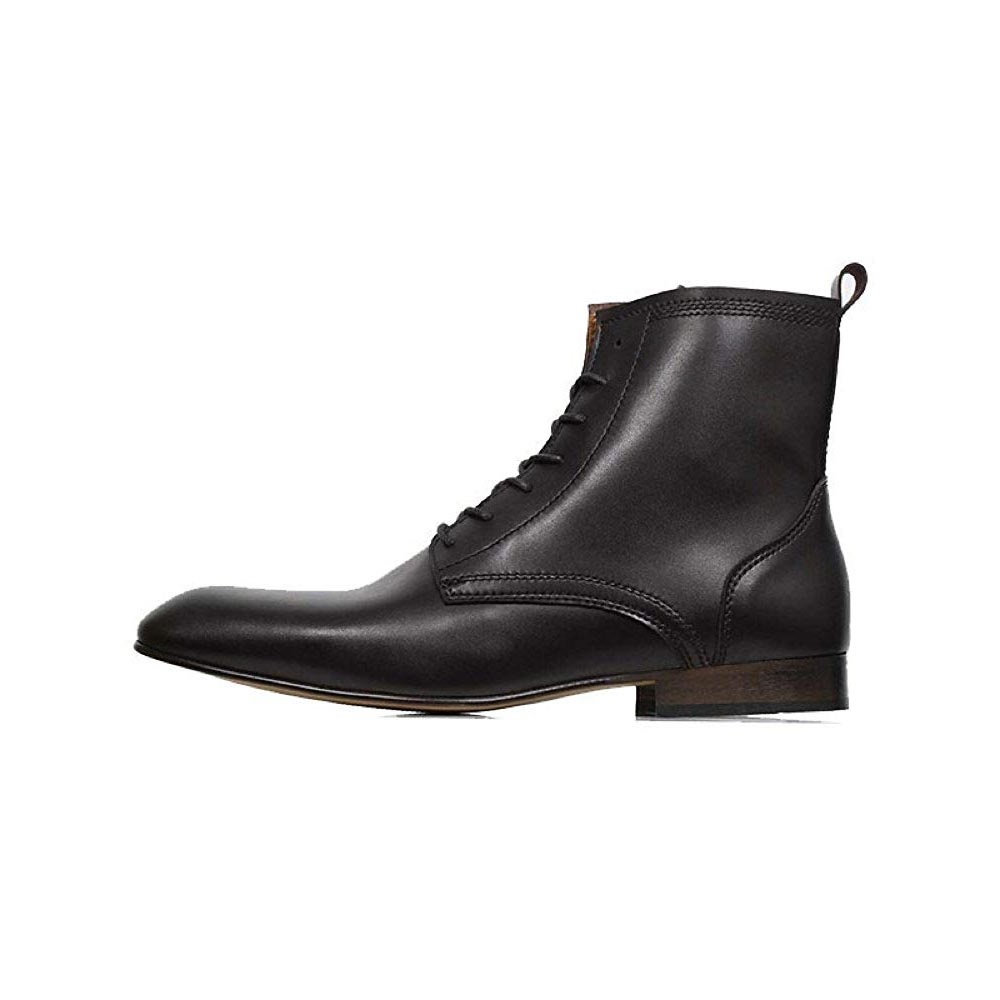 These dapper men's vegan dress boots are a style statement, made from best quality burnished Italian faux leather. With microfiber uppers, they have durable soles with a slim and strong stitch. Ethically manufactured in Portugal under PETA's vegan regulations, they are water resistant and breathable with classic dark brown wooden heels. These boots are perfect style staple for work or any outdoor activity.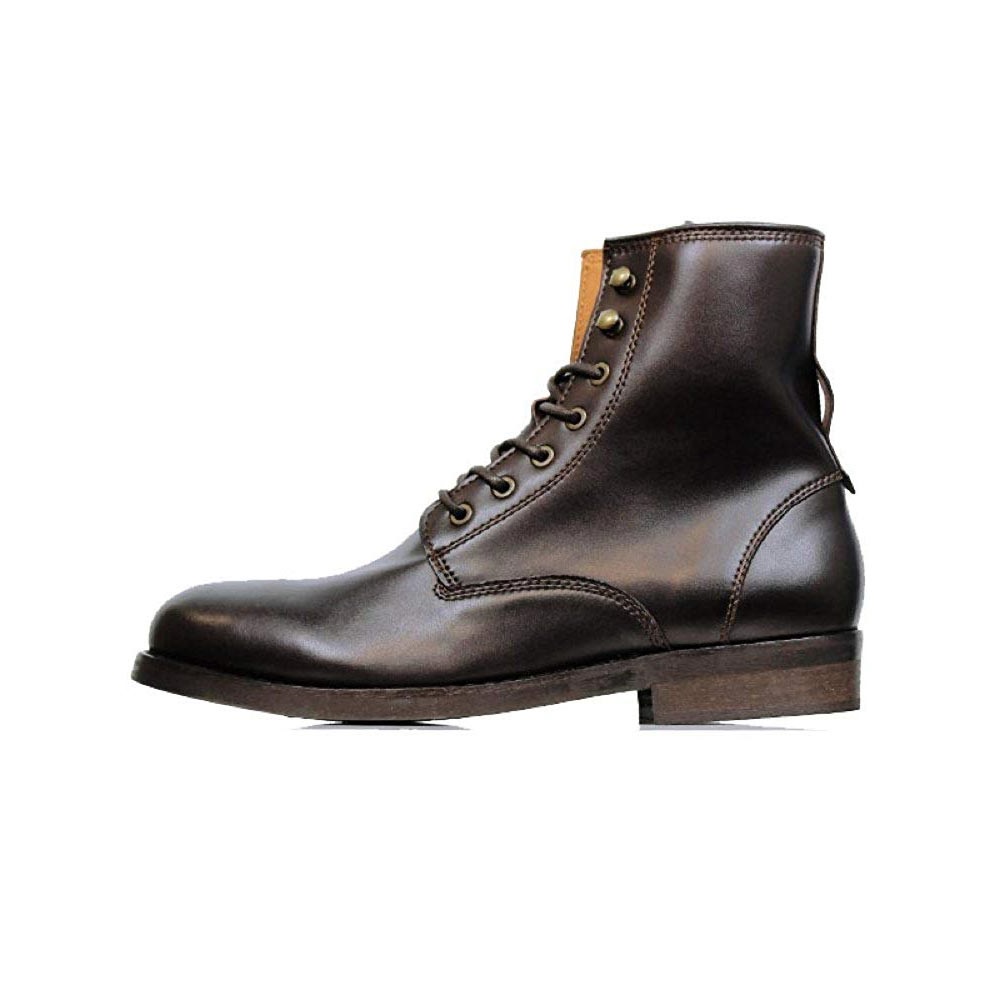 These Strider Dress Boots are a dapper style statement, complementing any outdoor look. It can be paired with jeans, denims or cargo. These vegan dress boots are ethically produced in Portugal using the finest quality Italian faux leather with durable soles. Water resistant and airy, these shoes have polished, microfiber uppers and soft, breathable linings with hand-stitched and cushion-y latex insoles. This signature pair is the ultimate vegan men shoes.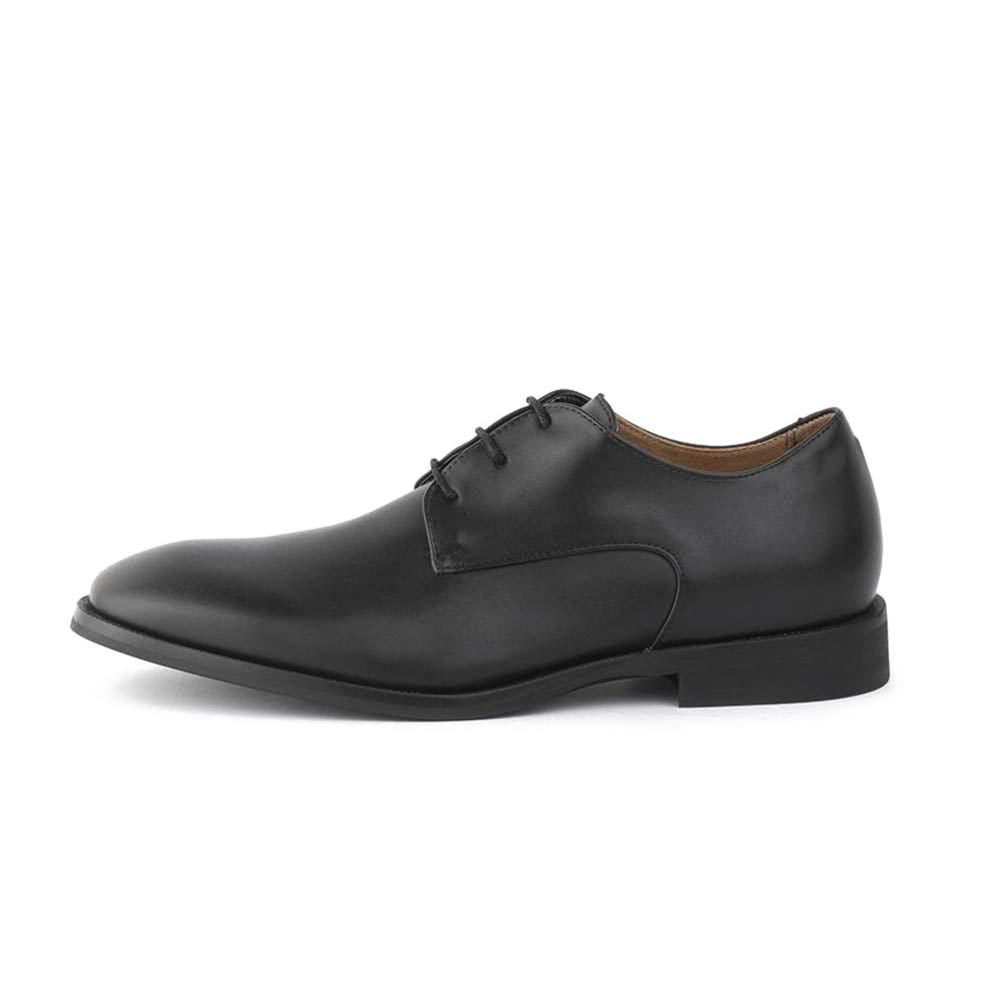 Made with sustainable vegan leather by Ahimsa, the Edward Derby is the casual, funky shoe every footwear collection is incomplete without. It is helmed as the dressier version of Derby, which is an open-laced modern type of shoe, identified by the side tabs that hold the laces in place. It is crafted with precision in Brazil and houses a special layered rubber sole, with traces of traditional design, lending it a premium appeal.
A classic Derby made of ethical vegan leather in Brazil, Ahimsa's plain toe derby has an Italian look and feel with a soft shine. One of the first in Ahimsa's vegan leather collection and designed after several months of planning and development, the Plain Toe has a worn vintage look, along with a narrow fit style. Made with sustainable and water resistant materials, it has a bio-latex insole, covered in cork.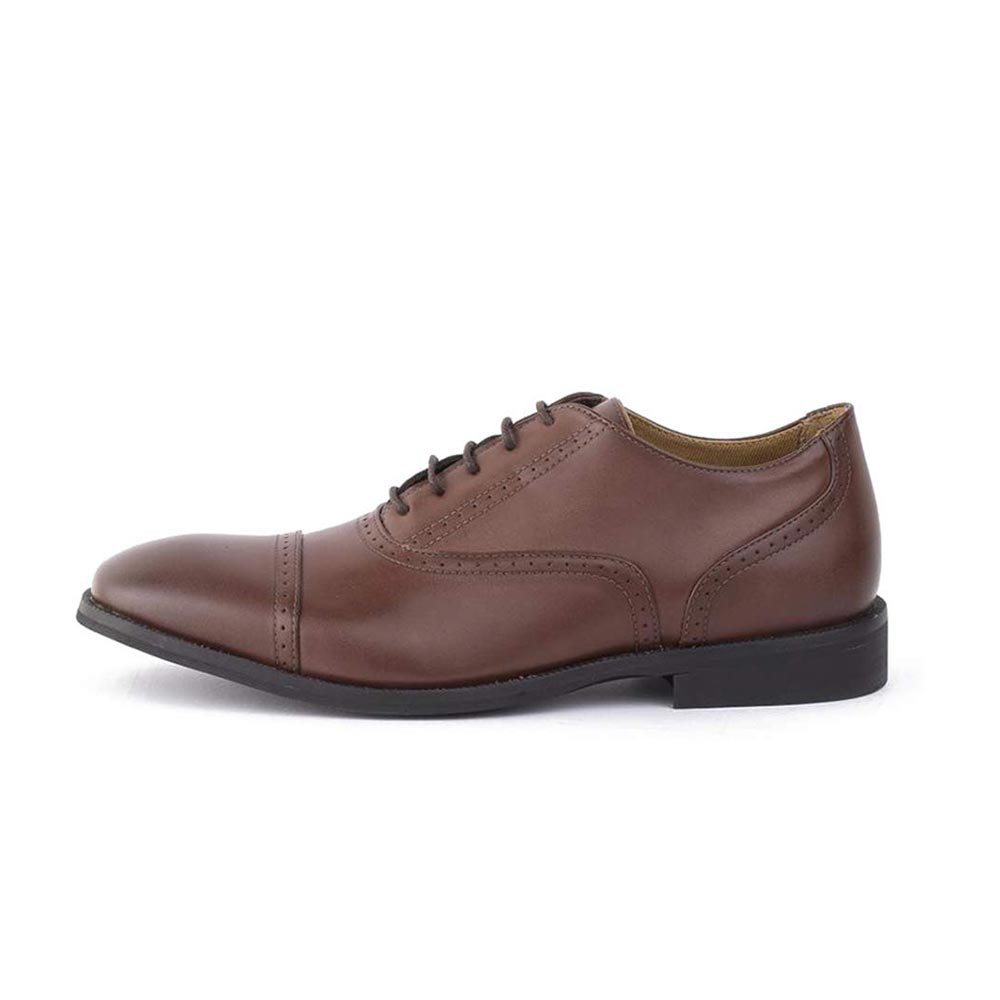 Ethically made in Brazil, Arthur is a classic Oxford semi-brogue, with decorative perforation and closed lacing. This makes Arthur a perfect footwear option for an elegant and traditional formal look for any occasion. It gets a premium, luxury appeal from its layered rubber sole with traces of intricate and ornate traditional design. With a sleek capped toe, it is sustainably made with vegan leather and water-based, vegan shoe glue.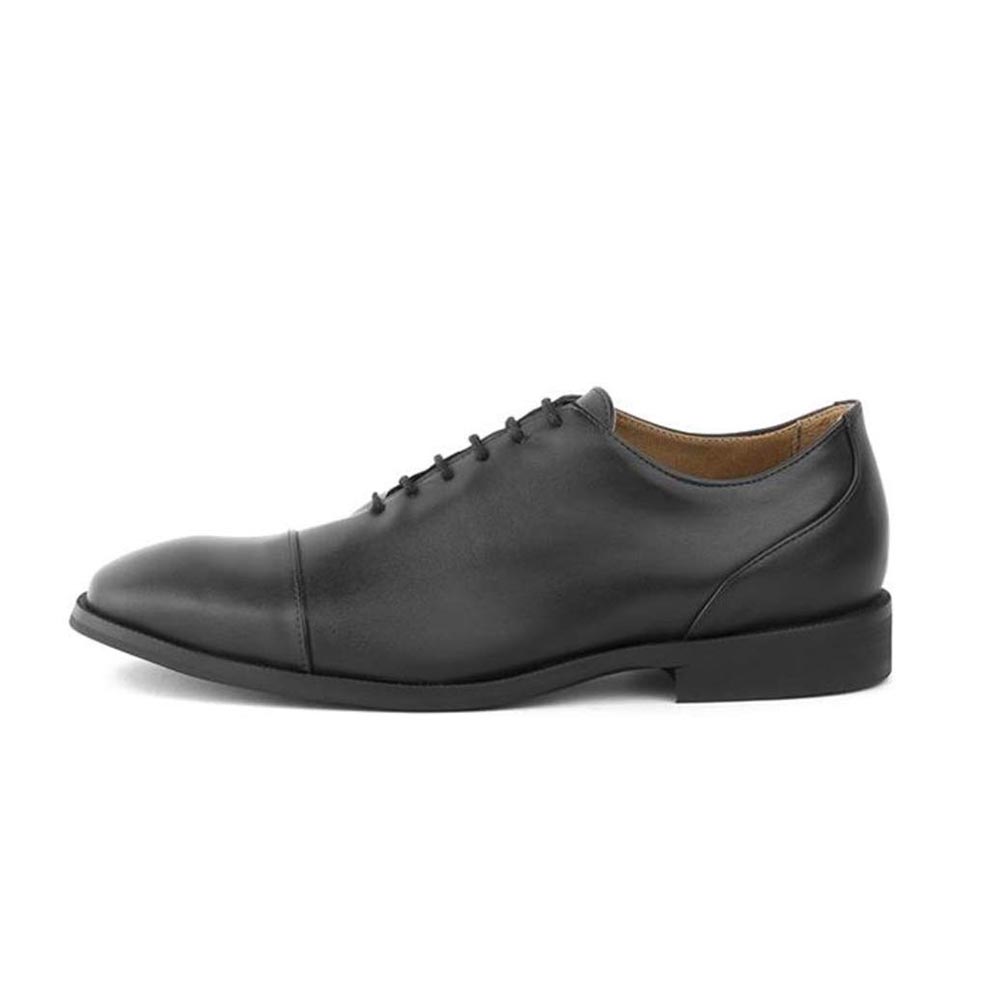 Considered one of the most elegant types of footwear for men, Oxfords are recognized by their classic closed lacing. The specialty of the Richard Oxford is the seam across its front part, also known as the Cap Toe, which sets it apart from the rest in terms of look and appeal. Ethically made in Brazil using vegan and sustainable leather, this men's Oxford has a rubber sole with traditional design.
This dapper and smart looking Oxford men's shoe is made of sustainable, vegan leather by Ahimsa in Brazil. With a narrow and snug fit, it has an outer sole that is made of eco-friendly materials like rubber, reclaimed wood and a biolatex insole. It has a classy and sophisticated style and is made of 100% pure cotton, lending maximum comfort and resistant to water.
Made using 100% pure cotton and sustainable vegan leather, these moccasin-style shoes for men are the perfect definition of style and comfort. Ethically manufactured in Brazil by Ahimsa, a vegan brand that prioritizes love for all animals and promotes veganism around the world through its non-violent beliefs, Ahimsa's Vegan Moc Men Style Shoe is a signature product of vegan footwear.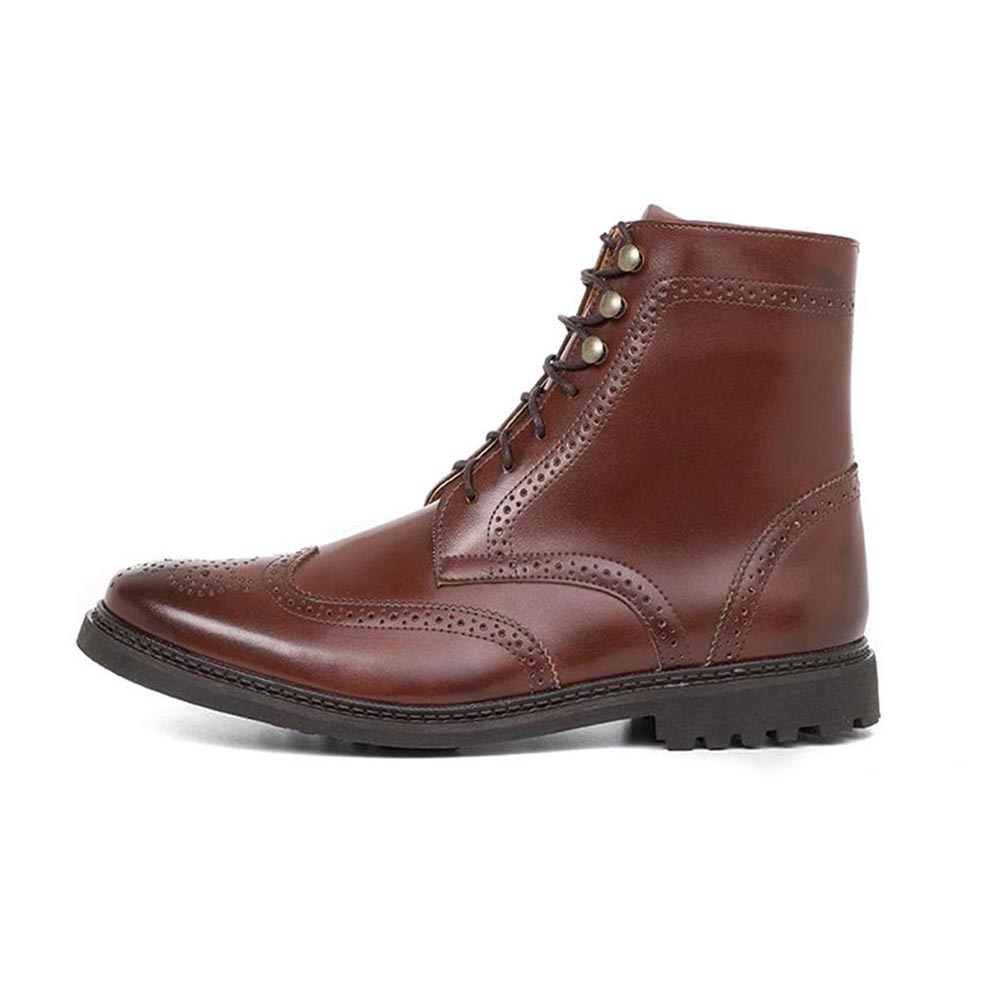 With a full brogue design and a rubber sole, Ahimsa Men's Vegan Wingtip Boots are the classic signature boots, made with sustainable vegan leather and eco-friendly materials. The Wing Tip Boots adds a more traditional and vintage worn-out look to your wardrobe, with its handmade finishing and intricate detailing around the toe area, known as the medallion. It is ethically made with water-based, cruelty-free glue and a rubber outsole in Brazil.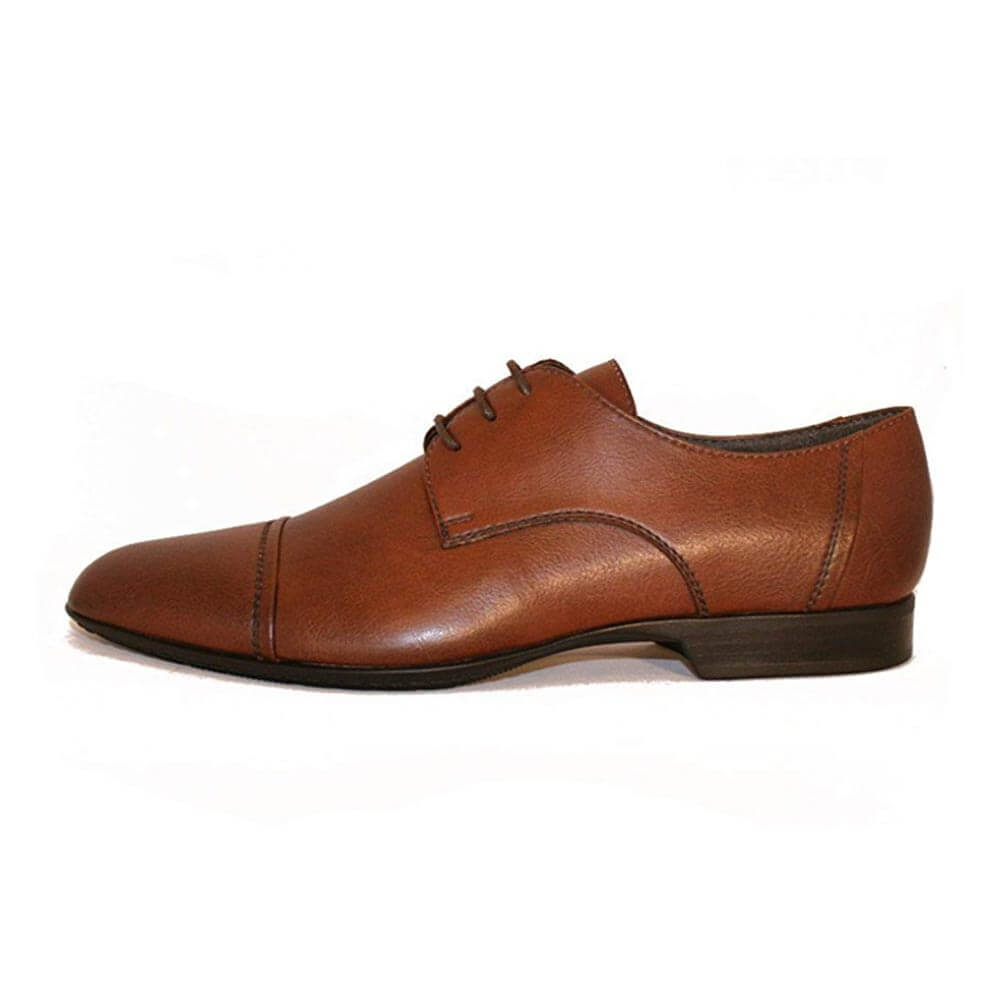 This classic derby shoe is made using vegan leather in Italy. With an ornamental and intricately designed seam on the vamp and flexible, airy rubber sole, this casual vegan lace-up shoe defines chic style.  It is ethically handcrafted by NOAH from sustainable, long lasting and eco-friendly materials such as microfiber.
The Renato Men's Vegan Derby is carefully handcrafted in Italy using materials that are sustainable, long-lasting, scratch-proof, water resistant, breathable and recyclable. This high-quality product, made from vegan leather and organic substances is fashionable and sleek and complements your whole look, whether it's casual or formal.
Note: This shoe has been sold out on NOAH's official site, but you might still find it on Amazon through resellers.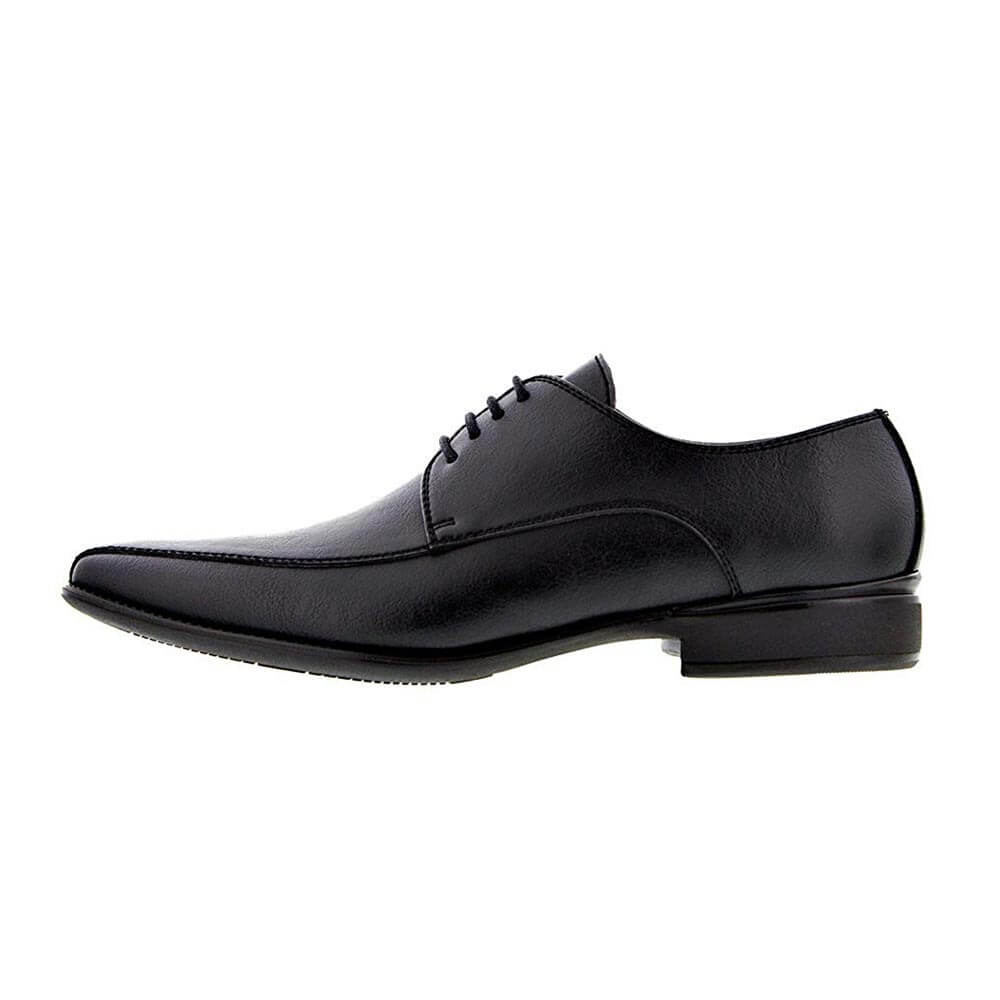 This classic toe-capped shoe has a sleek and slender look, which is accentuated by its detailed, contoured stitching. Made using sustainable vegan leather and eco-friendly materials such as Micronappa, this elegant lace-up shoe is a perfect choice for any formal occasion. Another added advantage that it has is its stable, non-slip sole made of rubber.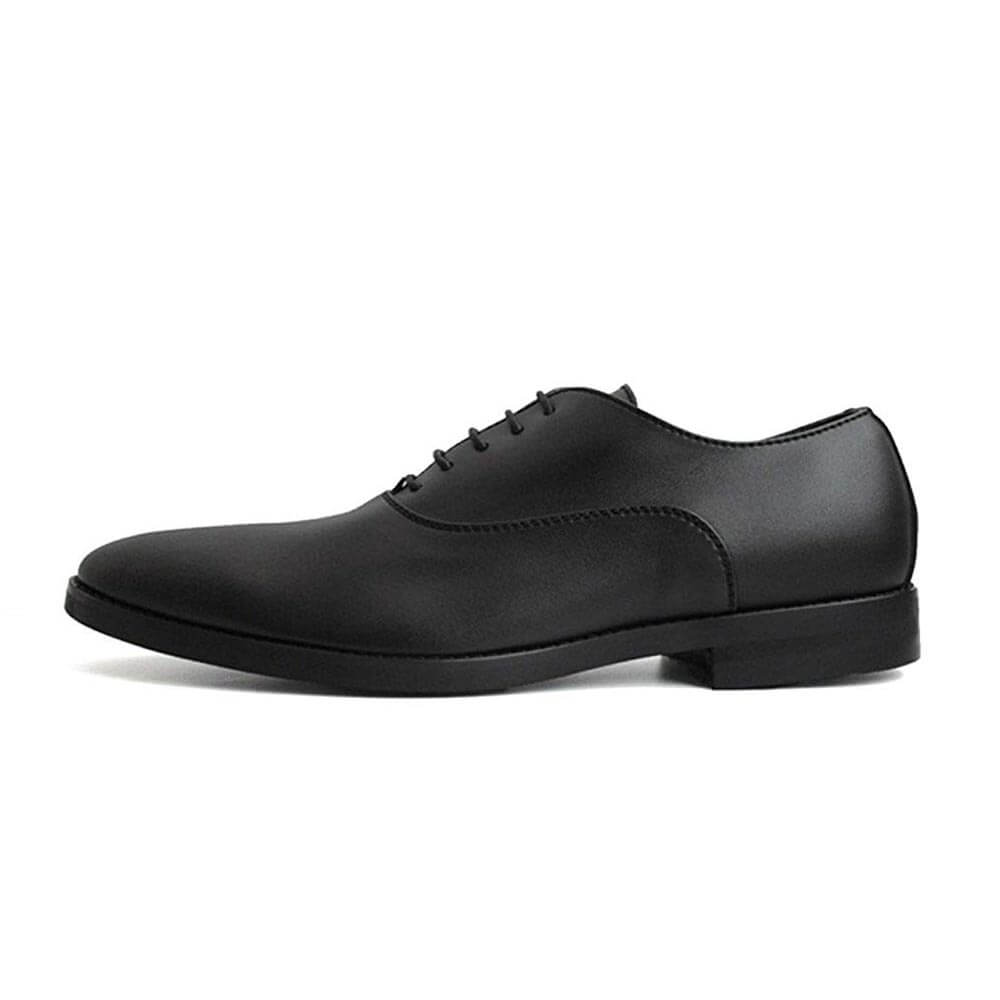 Ethically made using sustainable leather in Italy by NOAH, this Damiano Vegan Oxfords are a perfect symbol of style and elegance with its timeless lace-up and smart, comfortable fit. With its uppers made of eco-friendly Microfiber, it has a flexible and airy rubber sole, made using vegan materials in fair working conditions.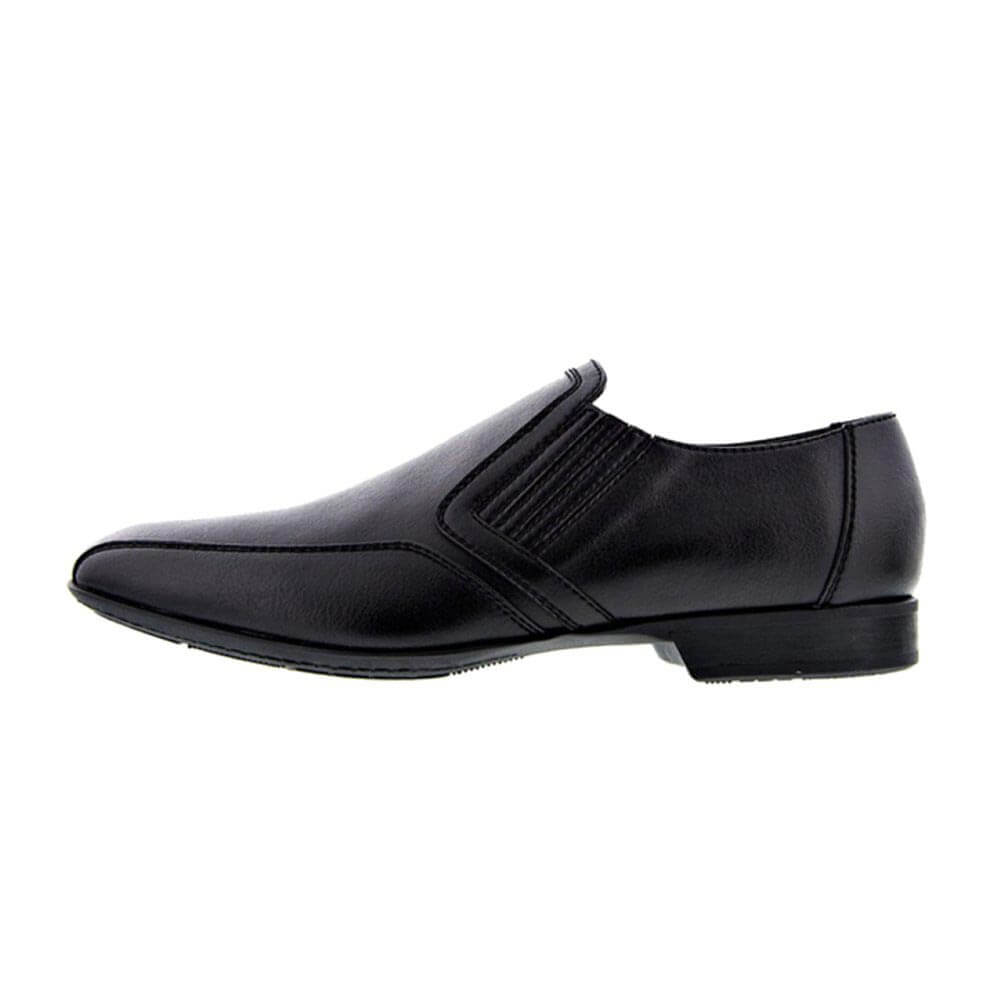 This classic slip-on shoe, ethically made using sustainable leather in Italy has an elegant and appealing design. Gianni Vegan Slip-on has eco-friendly Micronappa as the material used in its loafer and insole. The product is handcrafted by NOAH in fair working conditions, using the highest-quality environment-friendly materials. The shoe has sleek rubber outsole.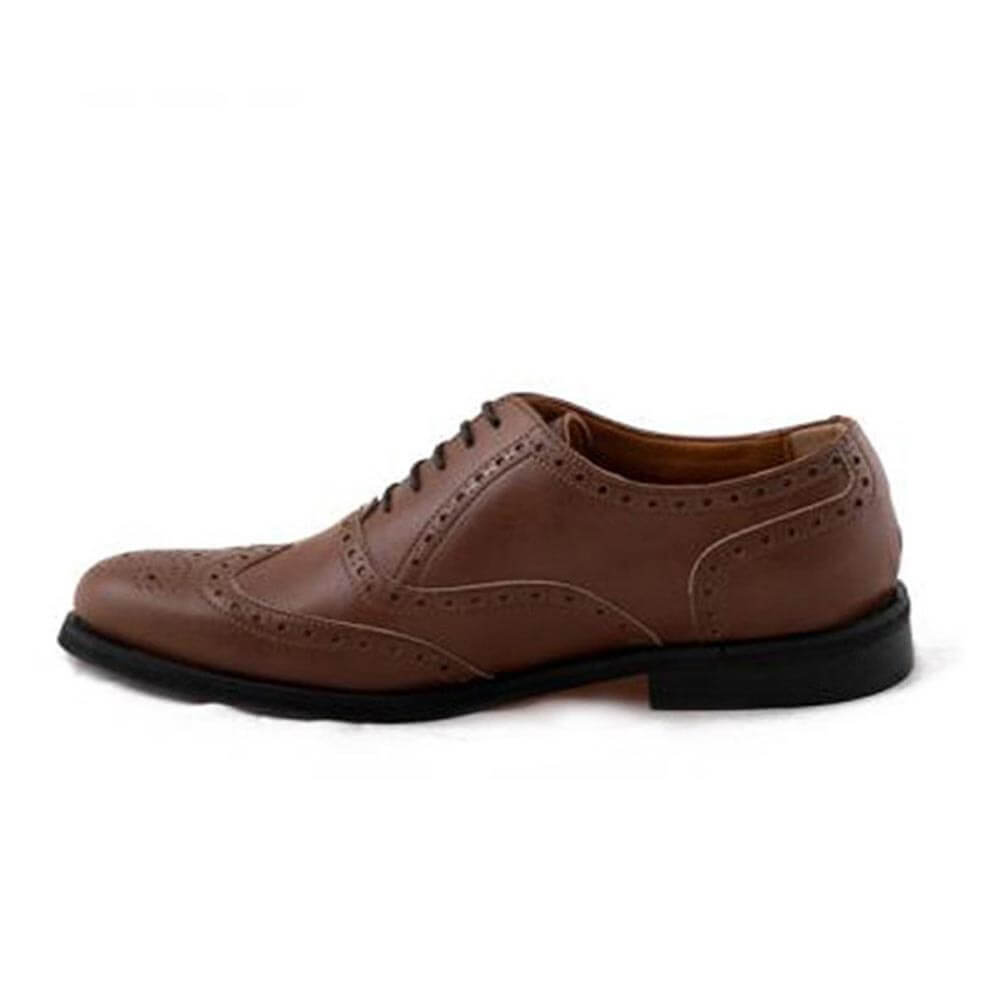 A classic Oxford style shoe manufactured using biodegradable and ecological Microfiber and a 100% natural rubber sole, this vegan Oxford Derby shoe is a symbol of timeless style and elegance. Produced in Portugal by NAE, a brand which swears by veganism and manufactures its products in the most ethical and animal-friendly way, these vegan shoes are perfect in terms of style and sustainability.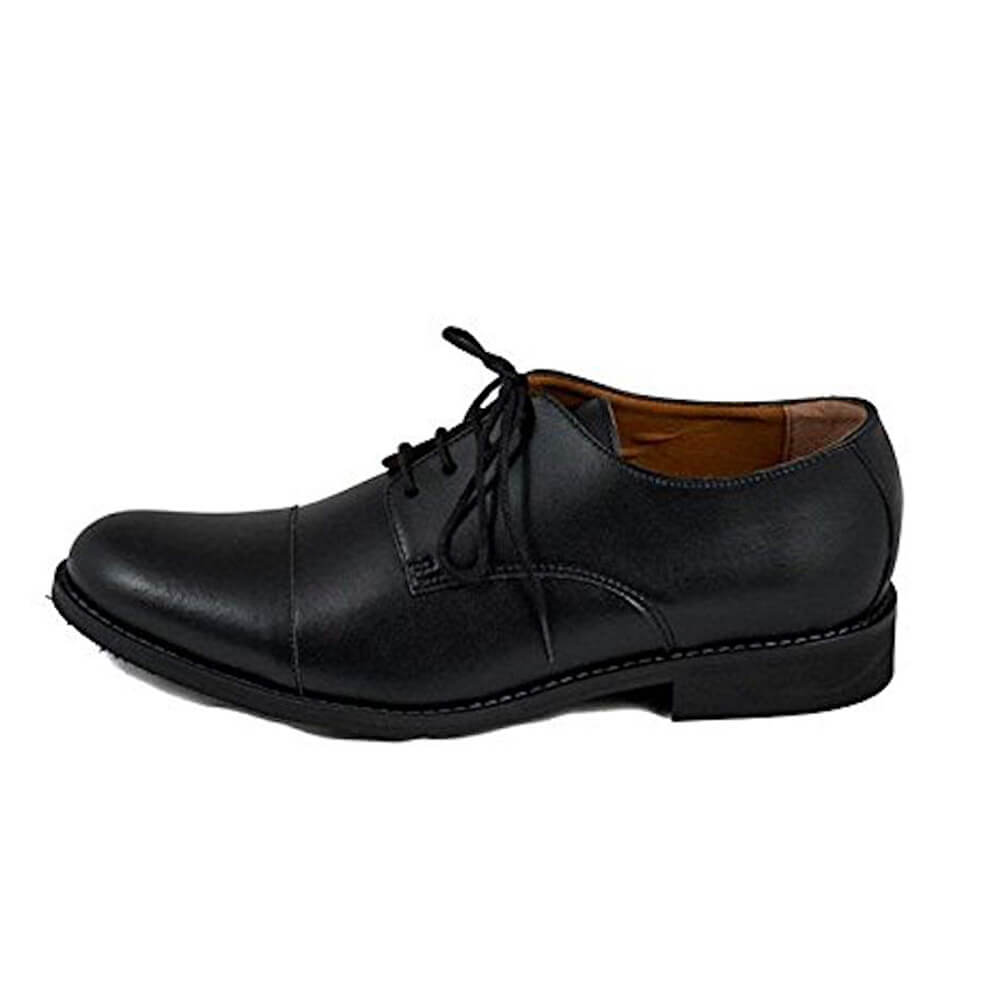 These Vegan Oxfords are a timeless classic made by NAE, an ethical vegan brand which incorporates its veganism and environmental sustainability in all its products. Made of ecological and biodegradable Microfibers, they have a compact and durable insole and breathable lining, prepared in an ecological and carbon neutral process. Ethically handcrafted in Portugal by expert shoemakers, these men's vegan shoes are a must-have signature pair for the smart and environment-conscious.
This dapper men's vegan shoe is a premium product made with ecological and water-resistant Microfiber and is Oeko-Tex certified. With a breathable and non-allergic lining, a paperboard agglomerate insole and a tough rubber outsole, the Austin Microfiber Loafer symbolizes comfort and class. Available in colors brown and black, the shoes are manufactured in Portugal in ethical and carbon-free manufacturing process.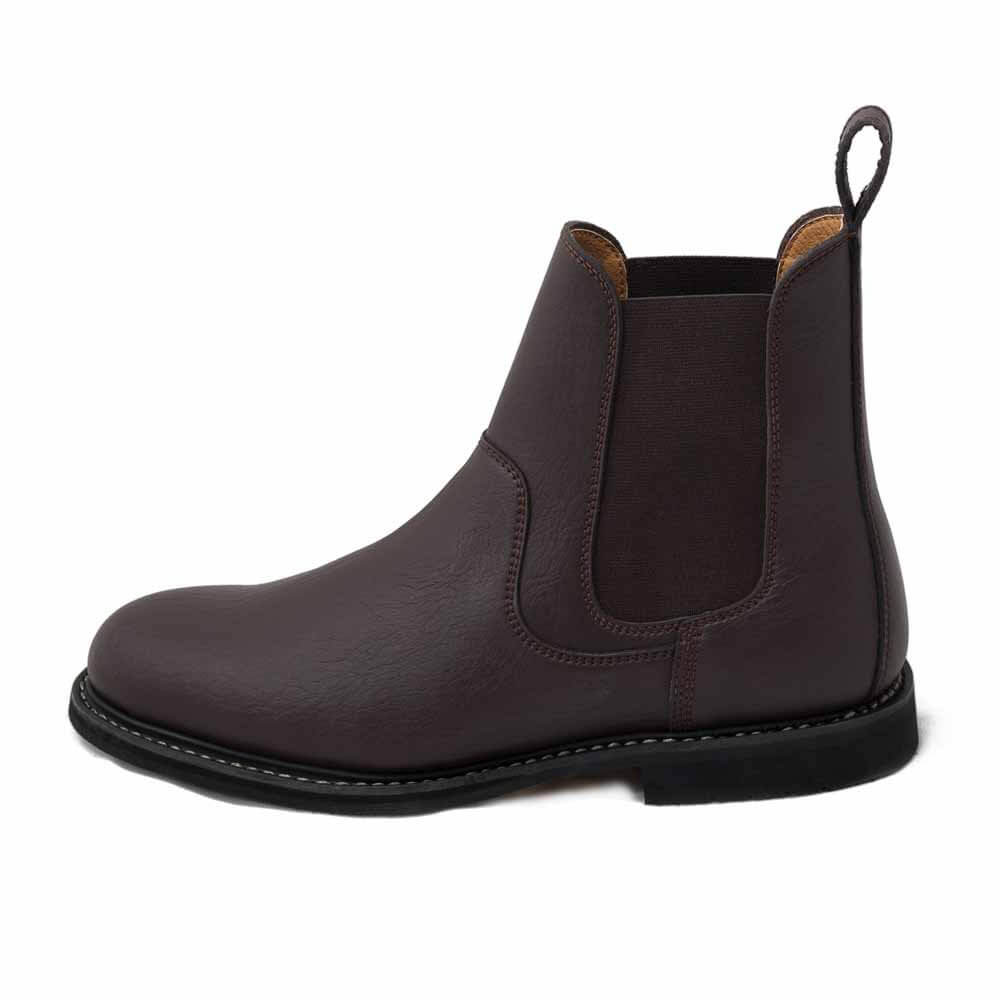 This dapper and suave Chelsea Boots is a signature vegan shoe for men. It is made from biodegradable and ecological materials such corks and Microfibers and has a 100% natural rubber sole. This boot is ethically designed in Portugal by NAE, a vegan brand that believes in and incorporates its vegan philosophy and environment sustainability in every product it manufactures, in fair and humane working conditions.
---
If you're looking for other types of vegan shoes, such as vegan winter boots or men's sandals, you can find them on our compilation of the best vegan shoes brands for men.