Updated on April 24, 2022
Various industries have different safety standards and certifications for the footwear allowed to be worn by employees. However, most safety shoes for men are hardly vegan, as they have leather, nubuck and suede uppers and soles. Here, at Vegan Men Shoes, we have worked hard to put together a list of the current vegan work boots and shoes with industry safety standards and certifications. Below is the list of all the vegan safety shoes and boots with their list of specifications and materials used. Before we start, here is a common list of certifications and industry safety standards for footwear from Canada, but are used in North America and Europe.
Canadian Standards Association (CSA)
| Name | Description | Symbol |
| --- | --- | --- |
| CSA White Rectangle with orange Greek letter omega (Ω) | Soles provide resistance to electric shock | |
| CSA Yellow Rectangle with a green "SD" and grounding symbol | Soles are static-dissipative | |
| CSA Blue Rectangle | Grade 1 protective toecap without sole puncture protection | |
| CSA Green Triangle | Grade 1 protective toecap with sole puncture protection | |
| Metatarsal Protection | Protection for the metatarsal region of the foot when working around heavy objects. Always requires toe protection | |
| Chainsaw Protection | Provides protection when using cutting equipment, such as chainsaws | |
| Super Static Dissipative | Grade 2 protective toecap with sole puncture protection | |
Please note that these are not the extensive list of certifications and industry standards used in the US, Canada and Europe, and are just for quick reference only. Make sure the shoes or boots you are buying are in in regulation with the requirements of your employer and your Occupational Safety and Health Administration.

Sources: Health and Safety Reports and publications, Canadian Centre for Occupational Health and Safety
And now, on to the list of vegan work shoes and safety boots. These are in no way separated into categories or arranged in a specific way. The different footwear can be used in multiple industries and types of work. Once again, choose them depending on the requirements of your work and certifications needed. These shoes and boots are, to the best of our knowledge, completely vegan, but make sure to check the companies' websites for more information about the materials and specifications of every model.
STC Footwear is a Canada-based company that provides safety shoes and boots for all kinds of work environments. They have a large selection of man-made, synthetic, and by extension 100% vegan boots due to their composition that foregoes animal materials, such as leather and suede. You can buy them directly on their website at stcfootwear.com or through the individual links below: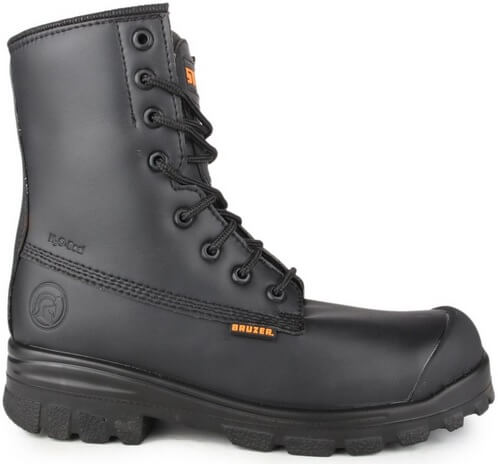 Shown here is the Keep, but check out their other vegan models: Drive, Bruce, Beaufort, Moonlight, Trainer, Stacker, Titanium, Cobalt, Geo, Keep, Trump, Larch, Geo-II, Shire, Maska, and Golden.
If you like the iconic look of Doc Martens boots, they also have a small but impressive collection of work boots for you. Made from rubber and mesh, their thermo-resistant safety toe boots will keep you safe from all the elements, literally, as they are water, fire and electricity resistant. Check their models and specifications and make sure they're certified for the type of work you are doing.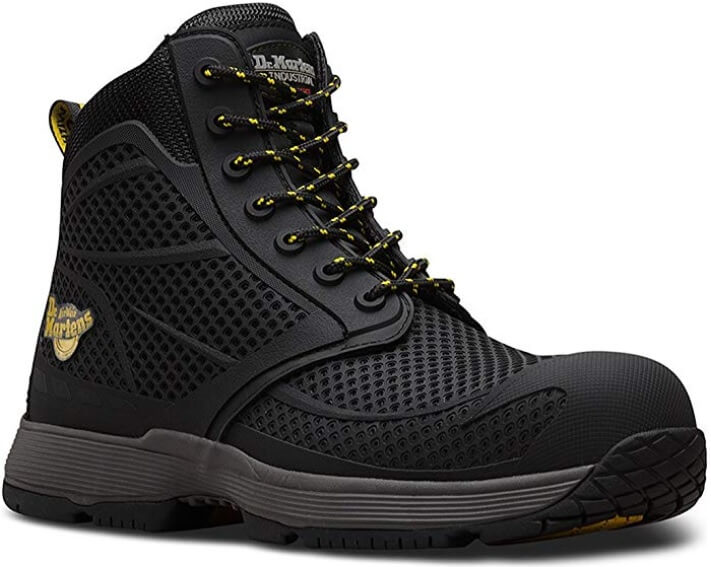 Safety toe cap (minimum 200J impact and 15kN compression force)


Slip-resistant rubber outsole

Additional insulation from the ground versus electrical hazard


Heat resistant outsole for up to 570 Fahrenheit for 60 second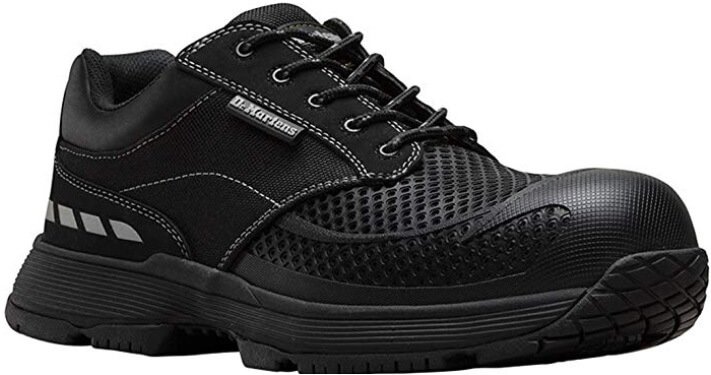 Slip-resistant rubber outsole

Safety toe cap (minimum 200J impact and 15kN compression forc

Heat resistant outsole for up to 570 Fahrenheit for 60 second

Anti-static electrical resistant between 0.1 and 1000M

Non-metallic, electronically non-conductive
Established and based in the US, Carhartt is a company that specializes in work attire, including construction boots and safety shoes. They happen to have an excellent model made with vegan ax suede.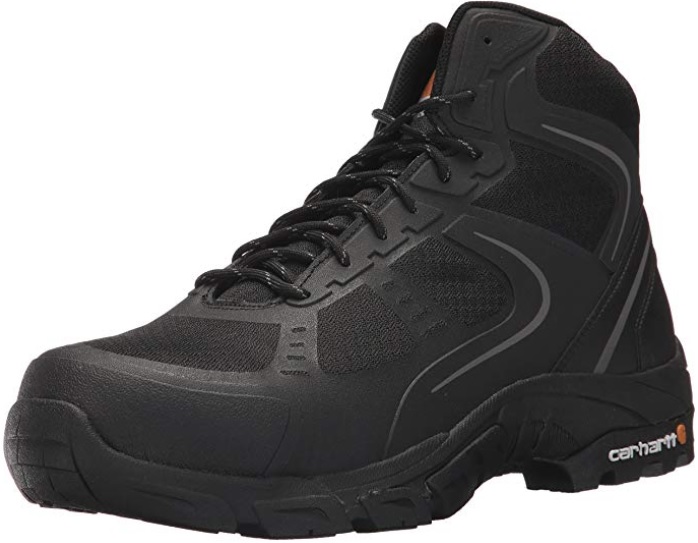 Steel toe and r

ubber sole

Slip- and fatigue-resistant

Comfortable and keeps your feet dry with FastDry Technology

Secondary protection against electrical circuits of 18,000 volts or less under dry conditions (

ASTM 2413-11 EH)

Oil, chemical, abrasion, and heat resistant

Vegetarian Shoes has been around for 30 years, and it shows from the quality and sturdiness of their footwear. They have a few models that have a steel toe for all types of work, see them down below.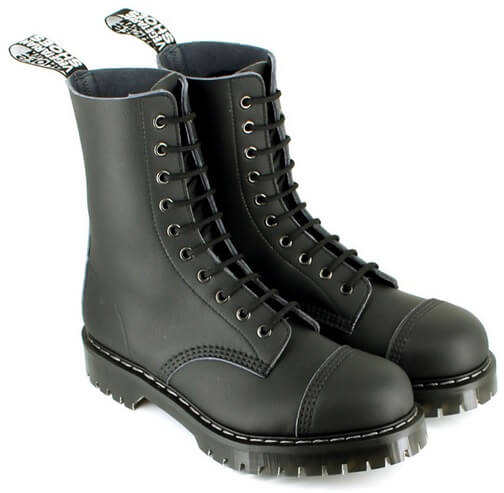 Steel toe
Military-style 10-eyelet lacing
Water-resistant, breathable material
Made in UK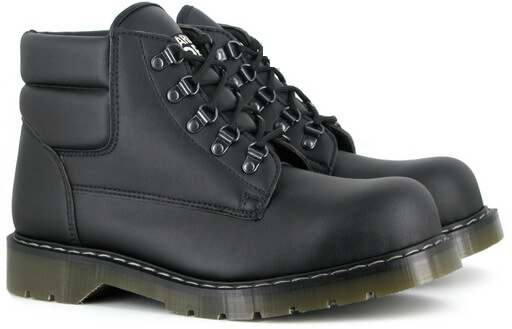 Steel toe
D-ring type lace fastenings
Water-resistant, breathable material
EN ISO 20345 2011 certification (Europe)
Made in UK
One of our personal favorite brands, Will's Vegan Shoes has come out with a steel toe model of dock boots made for your protection while you do lightweight construction or industrial work. Make sure they are compliant with the specifications required for your workplace.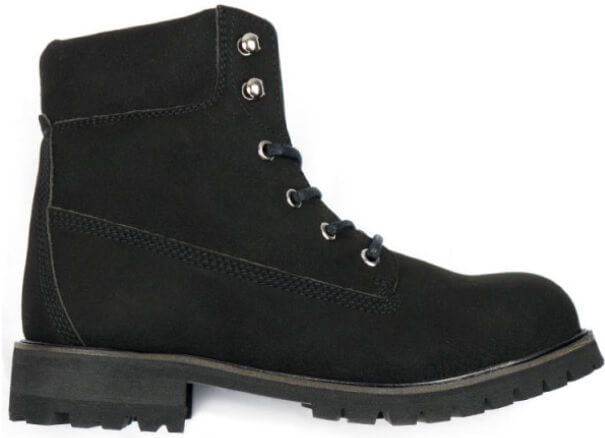 Fugu's work boots have a unique design, but rest assured that the quality and the durability of their boots is unparalleled. With nearly a hundred raving reviews for their sa-me model, these lightweight vegan steel-toe workboots will keep your feet safe and dry for all types of works. Prepare to be amazed by how comfortable these cruelty-free boots are. Buy their best-seller model here!
Sa-Me Japanese Vegan Work Boots
Ethical Wares, which was featured in our top vegan footwear brands for men, is one of the few, or possibly the only fully-vegan brand that offers Chainsaw certified non-leather safety boots. They also have a standard model of safety vegan boots for most light construction work. Check them out below or directly on their website!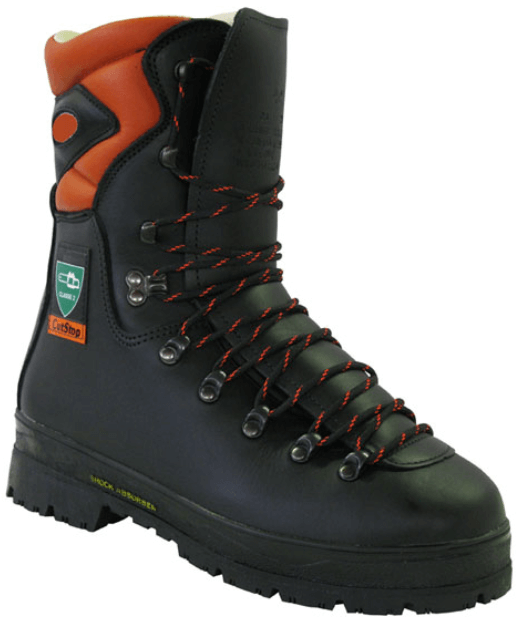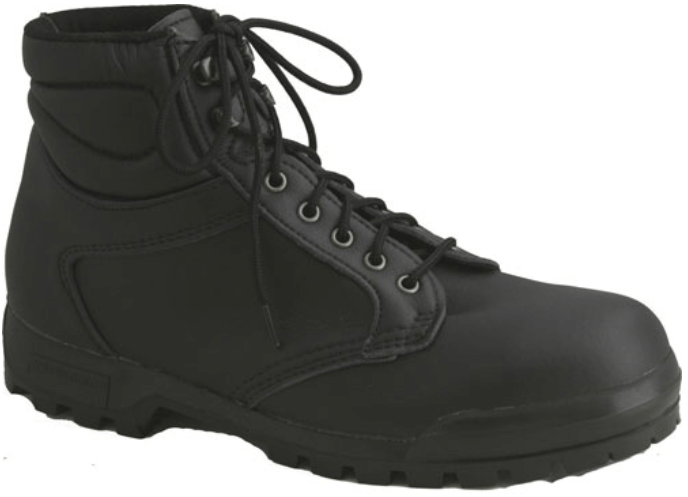 Known for their sandals, Birkenstock also has slip-resistant clogs for our fellow nurses and cooks who are on their feet for long hours and need a good pair to keep them up and running.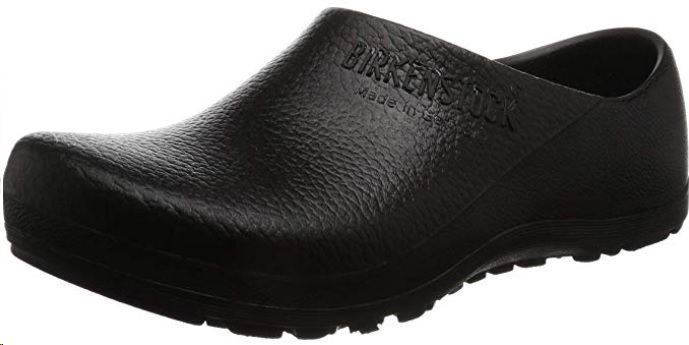 Certified anti-slip outsole

Made from polyurethane
Can be washed in dishwasher


Synthetic sole
Nothing wrong with wearing your Crocs to work, especially if they're vegan and are literally made for your work safety! Check out their two models of clogs made for professionals.
100% man-made

Slip-resistant tread

Enclosed toe and heel

ASTM F2913-11 tested, CE certified

EN ISO 20347:2012, OB, SRC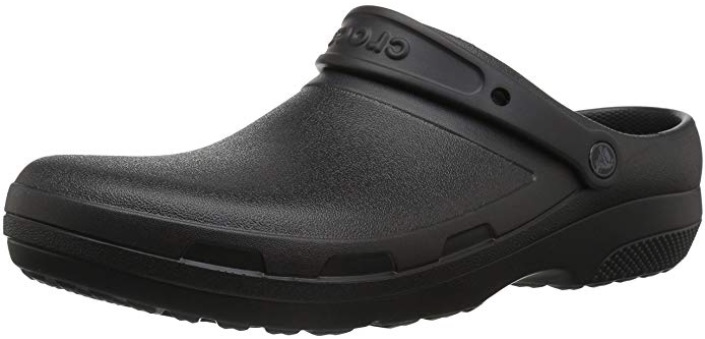 Synthetic

Lightweight
Perfect for nurses or chefs
Easy slip-on wear
---
Common questions about Vegan Work Boots
Are vegan leather boots durable?
Yes, vegan leather boots can be as durable as leather boots when made from strong materials. The durability of vegan leather boots depends on the materials used and the treatments they have undergone. Vegan work boots are often made with a mix of plastics and natural materials, such as polyurethane, microfiber and rubber. These different materials can be treated with various coatings that make them stronger than leather. For example, STC Footwear uses Chemtech, a synthetic material that is 3 to 4 times more durable than leather.
What steel-toed boots are vegan?
Carhartt, Fugu and Vegetarian Shoes are brands that carry vegan steel-toed boots. To confirm if the boots are vegan, consult the manufacturer's website and make sure they contain a steel-toe cap and look for materials such as polyurethane, vulcanized rubber and microfiber instead of leather, nubuck and suede.
Are STC boots vegan?
STC Footwear is a Canadian-owned company that sells work shoes and safety boots. While STC Footwear offers leather-free shoes and boots, not all of their products are vegan. You can filter their products by characteristics and include only vegan boots to ensure you are only browsing footwear made from leather alternatives.
Are Dr. Martens good work boots?
While Doc Martens can be used as work boots, you need to choose models that are within the certification requirements of your industry and workplace. Some models, such as the Calamus, have steeltoe caps and meet the ASTM requirements for protective footwear. Look for safety features such as slip-resistance and electrical hazard protection.
Are Dr. Martens waterproof?
Not all Doc Martens boots are waterproof. If you are looking for waterproof Doc Martens, make sure to read the model's specifications to ensure the boots are not only moisture-wicking, but are fully protected against water penetration.
Does vegan leather crack?
Vegan leather does not crack easily, especially when it's made from plastic and plant-based materials such as polyurethane, PVC and vulcanized rubber. If you are looking for leather alternatives that don't crack with normal wear, read the full list of vegan materials often used in footwear production.