Updated on April 7, 2021
Leather jackets are a staple in every man's wardrobe. However, most leather jackets sold online are made from actual leather and are not very vegan-friendly. Don't despair yet, as we have found excellent ethical and very affordable alternatives that don't require you to shell out more than a hundred dollars for versatile piece of clothing. These are the best vegan leather jackets in men's styles fit for the tightest budgets without sacrificing on the quality or the look.
This men's vegan leather jacket is a timeless classic. Made from high quality polyurethane, it definitely looks like genuine leather from any distance. The inside is lined with a soft fabric along with stretchy cuffs and waistline, it extremely comfortable to wear on a chilly afternoon, or an evening in the city. It also has a hood to cover your head in case it's raining out or if the wind is strong.
Made in the USA, this hooded vegan faux-leather moto jacket is perfect for windy weather. Fully made from premium polyurethane, it certainly looks very slick and works as a perfect last layer on a colder night. The size might run a bit tight on this one, so make sure to order one size bigger than you usually do!
This fake leather jacket from Chouyatou has a more vintage style, with a few metal accents and a higher collar. This inside lining is made entirely of polyester, and is very comfortable to wear during both warm and cooler weather. Classically stylish, affordable and versatile.
This lighter-colored Kenneth Cole faux-leather jacket is best worn during warmer seasons, such as spring and late-summer. It's made from quality polyurethane that will last multiple seasons of wear. It is an extremely versatile color, as it goes well with tons of different styles, such as with dark jeans and sneakers, or even with blue jeans with tan boots.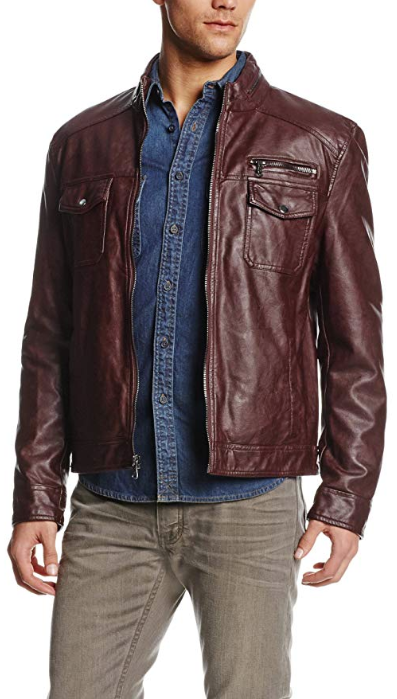 This red-toned faux-leather jacket is a great option for an autumn wardrobe with warmer colors. Goes well with light-colored pants, and make sure to pair it with complimentary colored boots, such as tan or navy blue. Kenneth Cole has tons of great alternatives to leather shoes and boots, make sure you check them out here. Their quality and style are both on point.