Updated on April 7, 2021
Spring is here! The sun is going to be out longer and longer in the upcoming weeks, and it's the best time to start gearing up for an enjoyable spring and summertime. For the comfort of your feet, we gathered a selection of the best vegan sandals for men on the market right now. Sandals and flip-flops, are the perfect footwear to counter the Summer heat, however the selection for vegan men is quite limited, as most of the models contain leather or suede straps and lining. Luckily enough, we found durable and sharp models of sandals for vegan men. Here are your summer casual options made from 100% vegan materials.

We start off strong with these sporty Okabashi sandals made from simply the best vegan materials you can ask for in vegan men's sandals. This model provides arch support for the comfort of your feet, and is shaped for added support to your heel to allow your feet to stay inside of your sandals. Made in USA, these vegan sandals will never wash away their original color, as the material, microplast, is nearly indestructible with normal wear. However, rest assured that this pair is also recyclable once you think they've spend their fair share on your feet. Buy them here.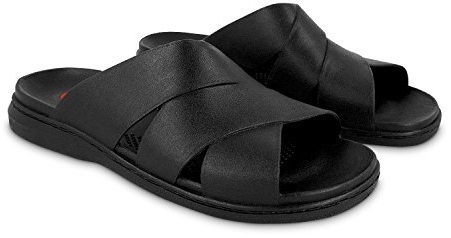 Okabashi has yet another model to offer you with these vegan flip flops for men. With the beaded flooring of these sandals, your feel will be constantly massaged as you walk around in them. Very durable and easy to clean, just rinse them under water once in a while, and they look as good as new. They fit greatly and are sturdy enough to navigate a rougher terrain, and slick enough to walk around the pool. Buy them here.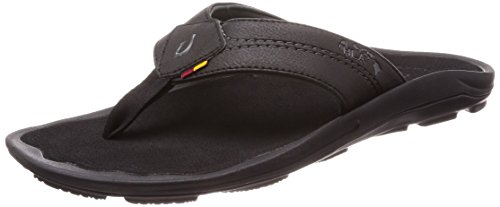 Olukai is back with a pair of made in USA vegan slippers made from 100% man-made material, and 0% animal products. They offer great grip when they're dry and will not fall of your feet easily. One of the best styles Olukai offers, the arch and heel support on this pair are unparalleled. With the y-shaped straps, these slippers are the most breathable pair you can get to soothe your feet from the heat of the Summer.  Buy them here.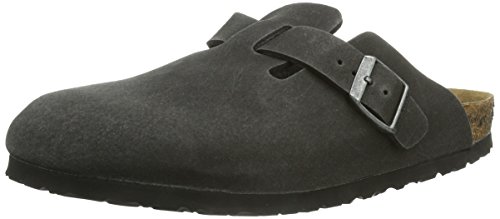 This Birkenstock model features soft microfiber lined with Birko-flor, their 100% man-made material made specifically for the comfort of your feet. Fully covering the toes and the upper part of your foot, they are still very comfortable and allow the air to circulate freely thanks to the cork-polymer bottom. The microfiber acts as a faux suede lining, adding more style to an already stylish pair of sandals. Buy them here.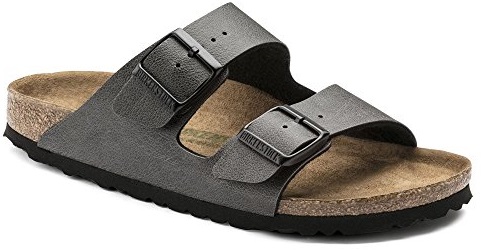 Birkenstock knows how to make the best vegan sandals for men. This German sandal and shoes company has been producing footwear since the 1700s, and trust me, they know exactly what they're doing. This specific model of sandals uses a synthetic upper they call Birko-flor, a material which is extremely durable, soft on the skin and easy to maintain. They are known to cause less irritation to your feet, and are easier to break-in than any leather sandals. Buy them here.

Probably the most lightweight of the models of this post, these sandals are almost weightless on your feet. They're made vegan leather, fit great, and look classic yet extremely fashionable for a pair of simple sandals. The rubber bottom is sure to keep your feet on the ground, as they have great traction and are not slippery at all. Once again, the open-toed model gives your feet a comfortable, breathable experience. Buy them here.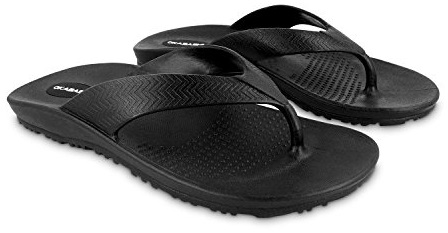 These surf flip flops are the classic pair of vegan flip flops made for the poolside or the beach. Made from the same material as their other models in this post, these sandals offer the added comfort of having your toes and most of your feet completely exposed allowing them to be free and breathing the fresh Summer air. Their best quality is their durability. Being made from one single piece of a rubber material, these sandals will last you a decade easily with normal wear. The high arch support is also included, which will keep your feet from being flat and tired after a long walk on the beach. Buy them here.