Updated on September 8, 2021
You love your sneakers for comfort and style, but little do you know that most shoes flooding the market are produced from animal skin. If this is something that breaks your heart, then you would better opt for vegan synthetic non-leather shoes from Adidas. When you do not wish to wear animals, a pair of vegan sneakers surely gives you a reason to smile.
If you are unable to trust a brand's commitment to end cruelty against animals, you might literally struggle to find cruelty-free sneakers, right? Luckily, there is something like animal-free fashion too. Leading brands, including Adidas, have shown their commitment to their vegan audience, coming up with synthetic non-leather shoes for men. You can trust their compassionate skin-free materials. With veganism growing in popularity, vegan-friendly shoes are a must for many companies. Adidas is one of those who realizes that vegan items are a large part of the future of fashion.
It might help to read the materials list first to ensure that you get exactly what you need. Here is a list of top vegan Adidas sneakers that might interest you.
Disclaimer: Most or all of the links to these vegan Adidas sneakers are affiliated, meaning that I get a percentage of any purchase you make on Amazon, with no extra cost to you whatsoever! This allows me to sustain this website, and to keep posting reviews and guides for vegan men and women.
Top Cruelty-Free Sneakers From Adidas for Men

(
If you seek the perfect running shoes that are cruelty free as well, grab this pair of ultra-comfortable, performance-ready Adidas Ultraboost 20 sneakers. These are comfortable, breathable, and lightweight shoes that are ready for your next run with their cushioned midsole with 20% more boost and sock-like fit. That means every single step you take is comfortable, thanks to the responsive bounce cushioning that adds an extra layer of flexibility. The Continental outsole adds the grip that flows with every single step so you feel more energized to push your limits.
Enjoy stitched-in support from the upper knit that creates visual appeal as well. These vegan running shoes are your best pair to turbo charge your miles. What's more, the breathable mesh makes the pair an ultimate comfort fit. With the Adidas Ultraboost 20, which is another name for confidence from the ground up, you are all set for your next run.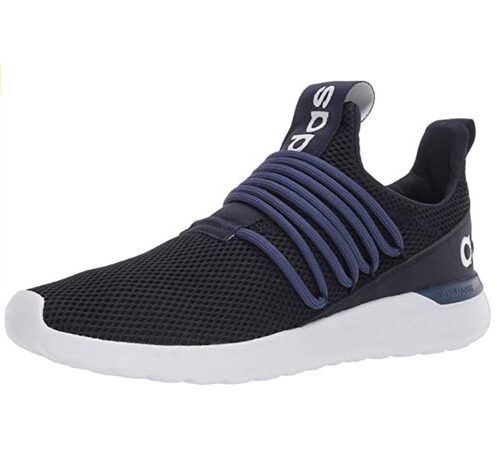 (
Lightweight, comfortable, and flexible, Running Lite Racer Adapt 3.0 shoes are inspired by the run. The breathable upper mesh makes your feet comfortable and not sweaty.  In addition, the shoes are a snug fit with improved flexibility delivered by the stretchy mesh. The vegan shoes for men look classy with shorts and jeans. The cruelty-free sneakers are a casual addition to your vegan.
You will love the CloudFoam® midsole and the heel loop that add layers of protection and cushion for lasting comfort. The pair of sneakers is your best buddy on a rainy day, thanks to its rubber outsole that delivers a reliable grip, preventing slip and fall on wet and dry surfaces. The 100% synthetic non-leather Adidas shoes for men are equally comfortable for everyday use.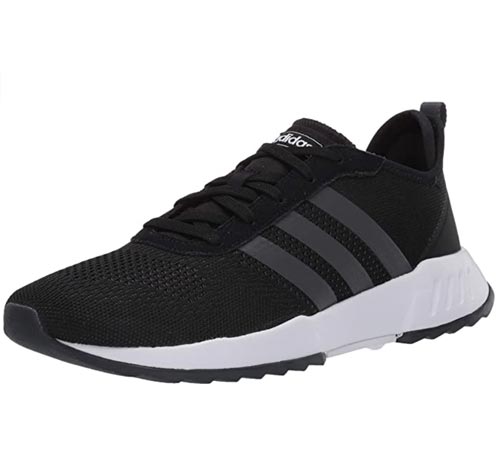 (
If you have always wanted a pair of vegan sneakers that combines comfort with an eye-catching look, then the Phosphere Sneakers should be your choice. With its colored rubber outsole and soft midsole, the sneakers are flexible and comfortable to the core. They make a snug fit and a great pair of trainer shoes.
A seamless circular knit on the top adds an element of visual appeal to the sneakers. You will love everything about these shoes – their style, their look, their sturdiness, their flexibility, and their comfort.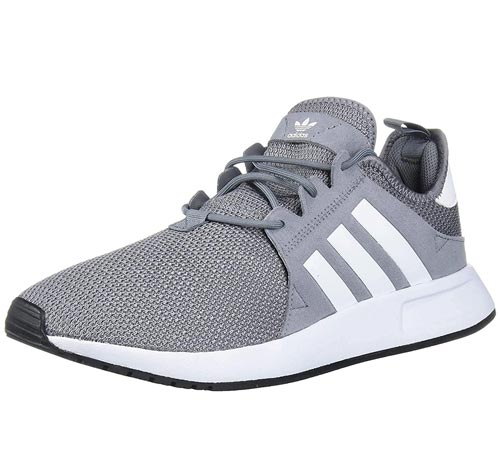 (
The well-crafted pair of running shoes from Adidas is versatile enough to be paired with casuals, trousers, and jeans. You will love the pair of cruelty-free shoes for their flexibility, comfort fit, and durability. Touted to be one of the most comfortable Adidas vegan shoes at a nominal price, Adidas X_PLR shoes are loved for their modern refreshing look and comfort that matches any expensive pair of running shoes.
The mesh-lined knit uppers make the sneakers incredibly breathable, so you can wear them all day long and still feel fresh without any hint of sweat. The well-crafted shoes are designed with speed lacing and back pull tabs that make it easier to put them on and off. There is no reason not to fall in love with these sneakers from Adidas.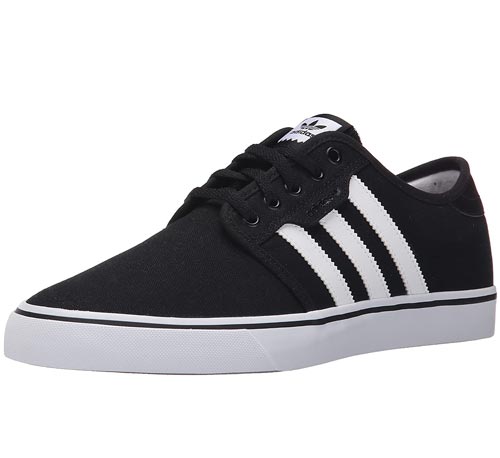 (
You may either love the synthetic leather shoes or hate them but you cannot ignore the Seeley Sneaker. The skate sneakers are vegan and loved for their heritage Adidas soccer look. The cruelty-free shoes are designed on the frame of the most popular soccer shoes – Gazelle. A unique blend of low-profile skate comfort with the fashion-forward soccer style, the Adidas Seeley sneakers are ultimate in comfort. You can wear these shoes every day as the abrasion-resistant upper adds a layer of protection from daily abuse.
The vegan sneakers come with a grippy outsole that perfectly sticks to your board for added control. If you are serious about your sports as well as have taken up cudgels against animal cruelty, you can enjoy your sporting life in the Seeley Sneaker.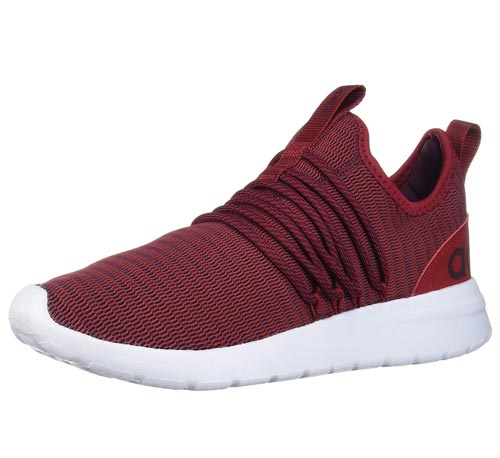 (
Comfortable and lightweight, this pair of vegan sneakers is your first choice for a lace-free look. The pair is designed with a synthetic sole. Their sock-like mesh makes them an amazingly breathable pair with a wide, flexible strap. If you seek a quality pair of Adidas shoes, these are your best bet. From excellent shock resistance to ultimate comfort from cloudfoam, the Lite Racer adapt sneakers fit perfectly.
These cushioned shoes are a delight to wear for anyone suffering from a knee or ankle problem. Step into Adidas Lite Racer Adapt sneaker for instant comfort and coolness. A must-have for sneaker aficionado, the sneakers come with a stylish elastic branded strap and Ortholite cushioning that prevent slippage and are high on comfort and performance.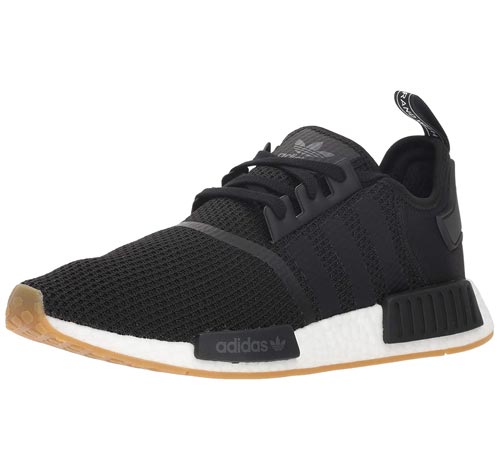 (
A casual sneaker that combines comfort with functionality and aesthetics. It is a typical example of the fusion of vintage style with modern upgrades.
When it's all about comfort and style, Adidas NMD_R1 stands at a par with top vegan sneakers. There are some vintage elements on the upper while the heel comes complete with the plastic wrap with the Trefoil logo. What does NMD stand for? It's a short form of Nomad, so does that mean this pair of cruelty-free sneakers is for travelers and explorers? Aptly so!
But more than that, it is a lifestyle sneaker that is fully comfortable with Boost cushioning and protective outsole. The lightweight pair is loved for its easy-to-slip-on design strengthened with colorful laces, which offers adequate foot support, keeping their feet secure all the time.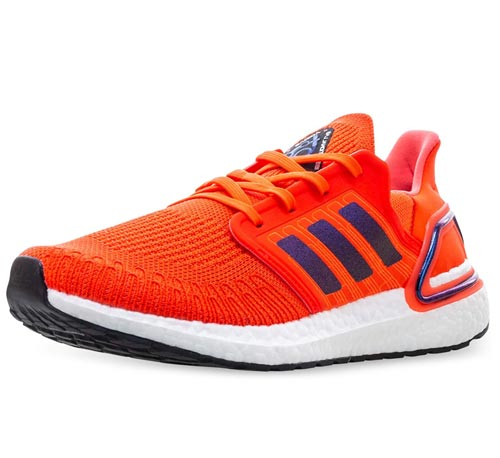 (
The Boost has been a widely popular pair of shoes by Adidas. But over the years, the brand has been coming up with some adjustments here and there. The Ultraboost 19 is designed with 20% more Boost foam into the midsole, without adding to the weight of the sole. The sneakers come with a Primeknit 360 sock, which wraps the foot. The shoe is perfect for easy and steady runs over long distances, which will delight runners greatly.
A translucent mesh makes it a breathable pair, which locks the foot in place and is eye-catching too. The upper is a full sock that tops the midsole, with a less stretchy knit resulting in a secure and comfort fit. The cruelty-free sneakers for men are designed with a wire frame on the heel counter, which helps with heel expansion on landing without any uncomfortable resistance.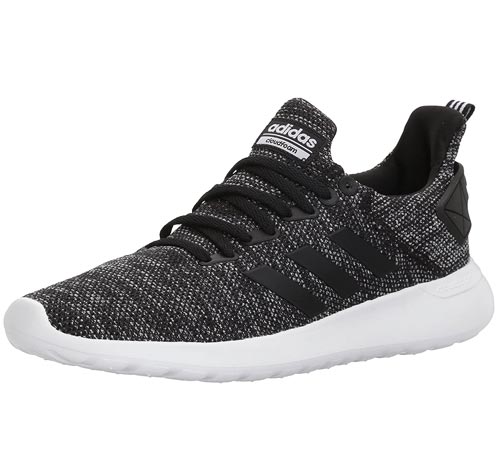 (
When comfort is the key, go for the Adidas Lite Racer BYD running shoes. Loved for their quality and design, this pair of vegan sneakers is a stunner shoe that is perfect for a number of activities. With an accurate fit and sizing this is an everyday use footwear that is highly durable, flexible, and comfortable.
The clean and contemporary sneakers are lightweight, with an ultra-comfortable Cloudfoam cushioning. That adds to the comfort in addition to the knit construction and synthetic sole. The sock-like construction makes these even more comfortable. The color and structure of the cruelty-free Adidas sneakers works seamlessly together to give you a stylish yet functional pair of shoes.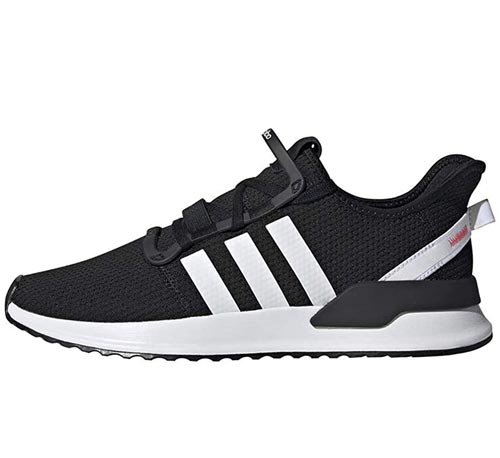 (
There is no special technological advancement in the designing of Adidas U_Path Run shoes. However, what makes this pair of sneakers highly impressive is that these are easy to get in and out. It's a snug fit that keeps your feet comfortable while running or walking or for everyday use. If you want to try out a pair of shoes that looks and feels good, then the U_Path run come with the D-Ring lacing system, which adds to its visual appeal.
Another striking feature of the Adidas vegan sneakers is its Ortholite sock liner. It is easy to remove and antibacterial too. It may not be the best choice for long runs. The U_Path Runs comes with a firm midsole that holds the arches and offers support.

(
Stylish, high quality, and comfortable shoes meant for those seeking a modern looking pair of sneakers. The Adidas shoe is stylish and versatile and loved for its beautiful design. It is a lightweight pair of sneakers that is made from synthetic non-leather material, making these a perfect option for vegans.
The sport-inspired sneaker is designed with a modern look but it is equally great for casual wear. Its unique silhouette striking design, and complementing color tones add to the visual appeal of this pair. A perfect fit that pairs well with shorts, slacks, jeans, and joggers.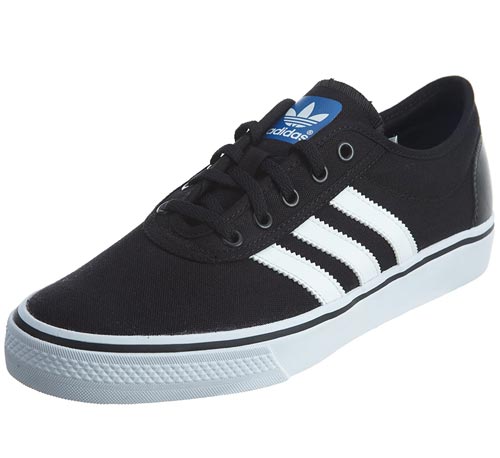 (
With their clean and classic looks, the Adidas Adiease sneakers are what you call a standard for skating. This is primarily due to their high performance design and visual appeal. The vegan sneakers are made of durable synthetic suede. The outsole uses vulcanized rubber that adds a layer of flexibility to the shoes.
Skaters love the Adidas Adiease for its perfect grip, flexibility, and durability.  Its eye-catching and timeless style with durable synthetic non leather material adds it to the category of lightweight vegan shoes. It is a decent pair of synthetic suede shoes that pairs well with any outfit.
(
You want your everyday footwear to be comfortable and lightweight, right? Adidas Adilette shower slides is one such pair that comes with a rubber sole, making it a comfort fit. The pair is so comfortable that you feel like walking on a tennis ball. It is a perfect fit for everyday use, from home to the gym. You won't ever get bored of wearing these sandals.
Designed with a synthetic upper in a slide sandal style, the pair comes with an open toe and smooth lining with Cloudfoam. With the traction outsole designed with EVA injected foam, you can wear the highly durable sandals all-day long. They are good for outdoors and equally fit for hardwood floors, without making a squeaky sound or slipping. What's more, they are waterproof and sturdy and exactly what your feet deserve – comfort and style.
---
FAQ About Vegan Adidas
Are Adidas Shoes Vegan?
As with all sneakers made by big companies, not all their sneakers and shoes are vegan. Adidas has been one of the largest players that invested in more sustainable materials, such as recycled plastic, but their shoes have not historically been known for their vegan collections.
Is Adidas cruelty-free?
While a lot of their shoes are synthetic and do not contain animal products, Adidas is not a cruelty-free company, as a lot of their models still contain leather, suede and other animal materials.
Which Adidas shoes are vegan?
The list above includes a large number of Adidas sneakers and shoes that do not contain any materials made from animals, such as nylon, rubber and plant-based glue. These are a better alternative to shoes made from leather and animal glue. Without further ado, here they are.
Does Adidas use animal glue?
No, Adidas uses synthetic glue that is not animal-based to manufacture its sneakers. This is in line with a lot of other shoe companies that are making the switch to more sustainable and cheaper practices.
Are Adidas' Stan Smith made out of leather?
The base Stan Smith model from Adidas is vegan made from leather. However, Adidas has a version made in collaboration with Stella McCartney which is fully vegan and features cruelty-free leather.
Are Adidas Ultra Boost vegan?
Yes, the Adidas' Ultraboost 21 are vegan. You can find links to these cruelty-free sneakers in the article above. From the synthetic knit mesh on the upper, down to the notable Boost foam at the base, the Ultraboost sneakers have no animal products in them.
Which Adidas shoes are vegan?
Adidas is one of the largest shoe company that offers a lot of vegan-friendly options, when compared to other sneaker giants, such as Nike. The Ultraboost, Stella McCartney collection, and the slides are only some of the vegan models from Adidas. For more vegan sneakers, browse the models shown in the above article.