Updated on April 7, 2021
Timberland is one of the most known footwear companies out there, especially for their classic Timberland in a wheat-colored nubuck accentuated with the padded black collar for the additional comfort for your ankles. The Timberland company, which had its beginnings in the mid 1950s, and was built on manufacturing leather footwear. However, leather is the product of a cruel industry, and contributes to the deaths of hundreds of millions of cows per year. In the recent years, there has been a push from designers all around the world to make sustainable and eco-friendly products with fabrics and materials that don't require the skinning of an animal. This included the rethinking of the iconic Timberlands, and has lead to the design, creation and manufacturing of a non-leather alternative made from a strong canvas upper and recycled plastics.
So what is the definitive answer to "are Timberland boots vegan"? Possibly. The Timberland Company states that their canvas boots are not vegan certified, but the materials stated on their product pages, including canvas and rubber, are man-made. If you're looking to buy them, below are the canvas Timberland boots, along with other cruelty-free alternatives from vegan companies.
This post contains affiliate links, and the product ratings are the personal opinions of the authors and does not reflect the quality of the product nor the opinions of other visitors on said products.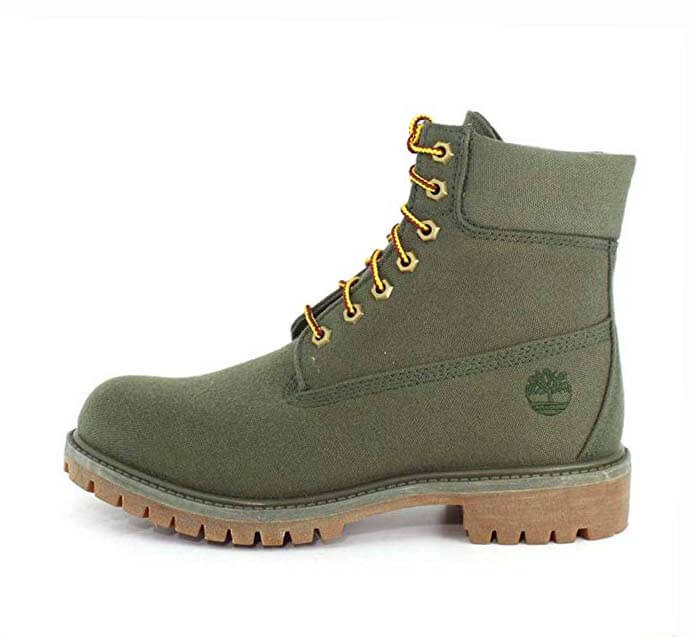 This vegan alternative to the classic tan Timberland boots comes in three colors: Grape Leaf, Jet Black (below), and Pure Cashmere (below). Made from canvas instead of leather, these premium boots have a strong canvas upper coated with a stain and water-resistant protective layer. The Timberland logo is embossed on the side, and the outsole is made of rubber for added traction on slippery surfaces. Buy them here!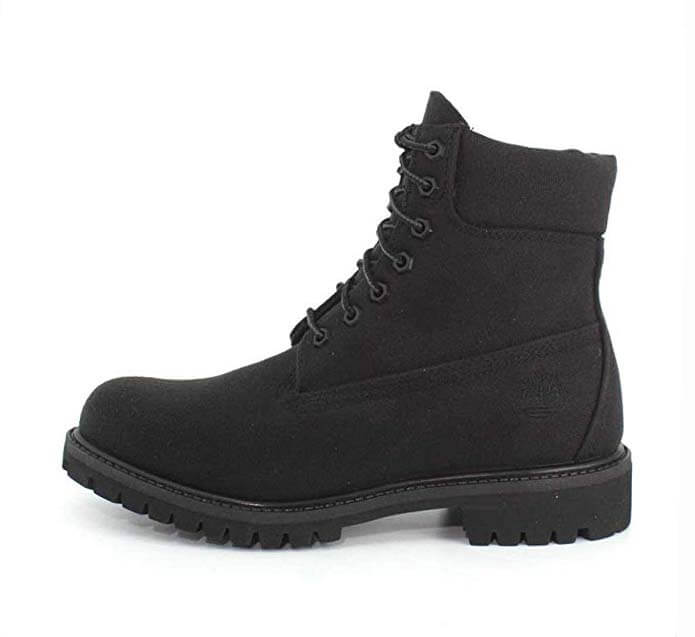 This black model of the canvas Timberlands is a perfect pair if you want a dressier boot which goes with many styles due to its neutral color. Stain-resistant and water-resistant due to the special protective coating on the upper, and 6 inches tall, enough to cover most of your ankle. Make sure to put your pants or jeans behind the tongue of the boot , never in front, it just looks plain weird. Buy them here!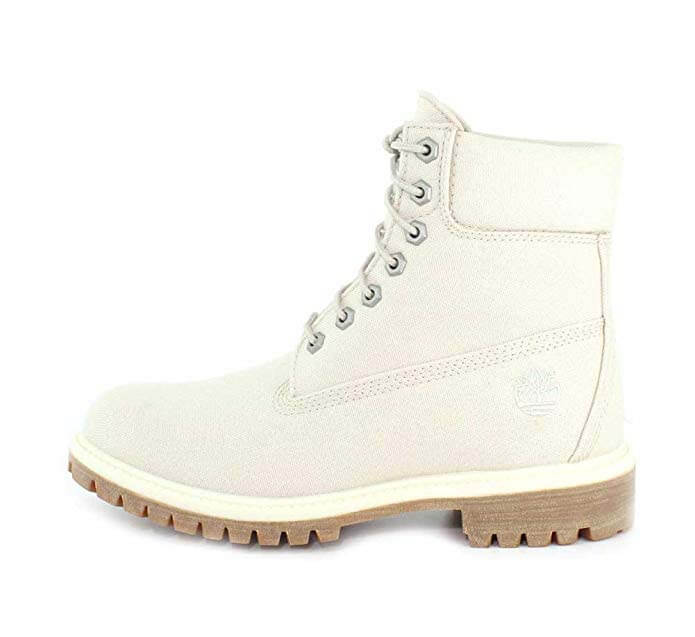 The build and stitching of these vegan boots is outstanding, making them extremely durable for normal wear, and decent for a lot of light work. White Timberland boots are probably a niche pick, depending on your wardrobe and style, but they can go well in with tan or olive pants, or light blue jeans. Make sure you pair them smartly with lighter clothes, as you don't want them to contrast too much with the rest of your outfit. Buy them here!
Other Vegan Alternatives
The boots are treated with a stain and water-repellent making them waterproof and stain-resistant, so don't be afraid of getting yourself a pair of white Timbs. If you don't want to contribute to the wallets of a company whose majority of products are made out of leather, there are a few vegan alternatives to Timberland boots made by other companies. Check them out below!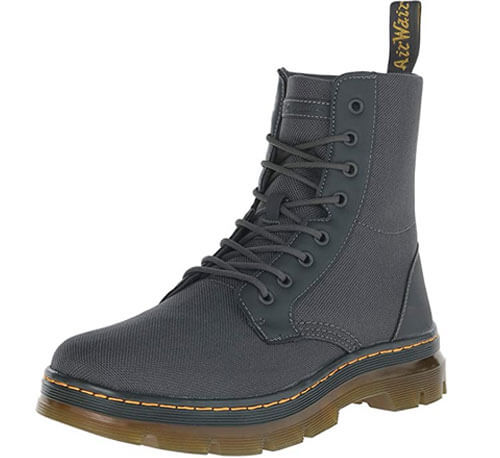 Another well-known brand name in the style of Timberland boots is Dr. Martens with their Combs casual boots. These combat boots come in charcoal or black and are super comfortable due to their flexible materials which include synthetic leather, nylon and rubber. They're also durable and lightweight, due to their oil-resistant sole. Buy them here!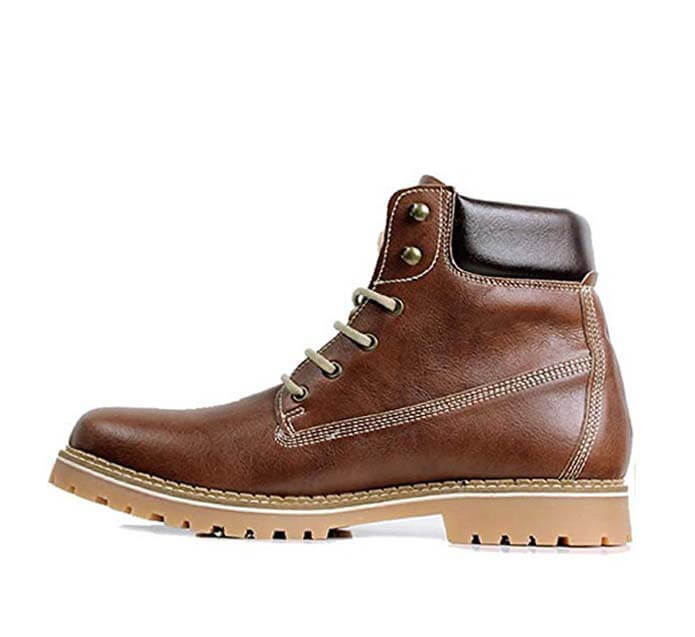 Let's start with a faux leather boot in the classic Timberland style. With a shine like this, you will often be asked if your boots are made of genuine leather. Very hard to tell the difference! It's PETA-approved, and made from water-resistant and breathable vegan micro leather upper. Buy them here!
This one is very reminiscent of the iconic Timberland without a trace of leather. It has soft breathable lining for the absolute comfort of your ankles and feet, and nice cushioned insoles to keep your feet from getting too tired, too quickly. The upper has the feel of micro-suede while being completely cruelty-free. Buy them here!
Same old Timberland boot design while being cruelty-free, this Taste Adventure collection from Tastemaker Supply is a very close lookalike to the iconic pair. From the black rear ankle padding, down to the vegan microsuede feeling, you will feel like you're wearing the real thing. The material is breathable and the outsole is made of rubber, so it's slip-resistant. Buy them here!
These Timberland-style boots from ethical WARES is made in Italy and has the classic wheat-colored look. The breathable upper makes these vegan boots extremely comfortable to wear and the stitching demonstrates a high-quality build. This model also has the black collar at the back of the boot, making this a perfect vegan alternative to Timberlands. Buy them here!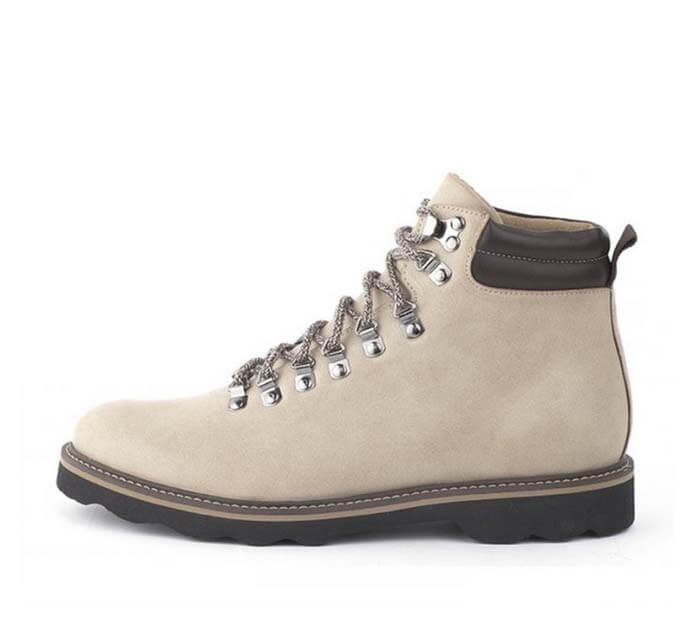 This one's a bit different from the typical Timberland boot look, but has a great design inspired by a mix of hiking and work boots. These boots from Ahimsa have lacing hooks to save you precious time while putting them on, and are made from nylon, a cruelty-free alternative to the typical leather used in these types of boots. You can wear them casually, and they also go great with a dressier style, especially in the Fall. They're 100% vegan and made in Brazil. Buy them here!
These vegan boots from NAE (No Animal Exploitation) are made of man-made water-resistant microfiber and are eco-friendly. This model comes in black, brown (or tan, as pictured here) and gray. Very close lookalikes to tan Timberland boots, and are versatile enough to go with multiple styles, be it casual or a tad more formal. Buy them here!