Updated on April 7, 2021
VIVOBAREFOOT embraces minimalist design and pays dear attention to the biomechanics of the foot. Their vegan trail shoes help you keep your optimal posture and take on the natural shape of your feet. By wearing their vegan hiking shoes, you will not only get as close as possible to walking barefoot in the city, but you will also contribute to more sustainable shoe making practices.
The following shoes have been selected due to their vegan materials, such as recycled plastics, natural rubber, canvas and nylon. These vegan hiking shoes for men are good in multi-terrain, have a neutral-enough design to be worn on the town, and are extremely comfortable and breathable.
Vegan Trail and Hiking Shoes for Men
The Magna Trail is the best-seller in terms of vegan hiking shoes for men. Their flexible ankle and water-repelling nylon is made for multi-terrain hiking to keep your feet as dry and comfortable as possible during mountain hikes. Weighing only 334 grams, they are the perfect light-weight pair of vegan shoes to bring on long trails without tiring your feet. They also come in a dark red or grey color. Check them out here!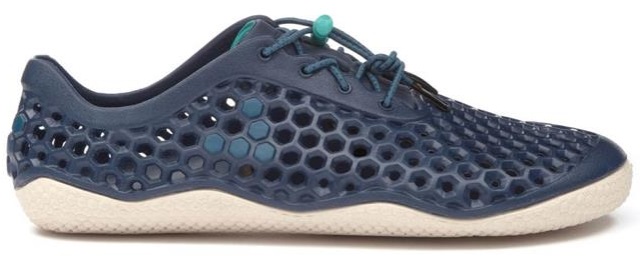 If you're looking for amphibious pairs of men's vegan hiking shoes especially for adventures on both land and sea, the Ultra III is the perfect choice. With their gripping rubber sole, they will stick on your feet whether they are soaking wet or not. The traction on these vegan hiking shoes are unparalleled. You can get them in red, white and algae green. Check them out here! 

The Primus Swimrun FG Mesh has been designed to be the perfect trail shoe for muddy and wet runs, without sacrificing their performance during drier runs. Not only they are water-resistant, but they also dry quickly when wet due to their implemented quick drain zones all around the shoes. They also keep your feet cool and aerated during your runs. Check them out here!

These vegan trail shoes are extremely light weight, have a gripping rubber sole for easier walking on slippery surfaces. The upper is breathable and made from a combination of mesh and polyurethane, keeping your feet dry. The man-made material makes these vegan shoes super flexible, allowing you to fold them in a bag or suitcase when you have limited space, or if you want to carry as less as possible when out for hike. You can grab yourself a pair here!

The Stealth II from Vivobarefoot is a running shoe made from 100% vegan-friendly materials. The upper is a thin mesh, perfect for keeping your feet breathing. It's a classic lace-up model sure to keep your feet cozy and tight during long runs. There is a thin comfort tongue at the back and the collar is padded to minimize chaffing. The insole is molded foam made to reduce impact on your knees and feet, but can easily be removed if needed.  The Stealth II comes in different colors, such as black/red, indigo, black and cordovan. Get these great shoes here!

The Primus Lite is the perfect shoe to keep you going doing the most strenuous workouts. Made with eco-friendly vegan materials, these vegan shoes are lightweight and breathable, and are built with the wearer's comfort in mind. The thin foam insole and the barefoot cushioning is perfect for runners. The Primus Lite vegan hiking shoes are so light, you would almost think that you forgot to put them on before leaving the house. Check them out here!