Updated on September 8, 2021
Backpacks are an essential tool for the modern man, and, since its' invention around the 1940's, has been a staple for people from all walks of life. For the professional businessman, the ever-wandering nomad or the fashionable student, backpacks are a very useful and efficient way of carrying your essentials when travelling, especially your books when you're running late to class. While traditional backpacks were made from cloth or canvas, leather trends caught on over the years, and it's getting harder and harder to find a vegan alternative to all the fancy leather versions saturating the market of nice and sturdy men's backpacks. This said, worry no more, we have rounded-up the classiest, sharpest and best-made ethically-conscious, 100% vegan backpacks.

I needed to incorporate at least one
faux-leather vegan backpack
in this list. For some reason, the fashion trends over the decades have decided that leather is synonymous of masculinity and quality. Here, at Vegan Men Shoes, we prove to you that you can wear an
environmentally friendly
,
ethically conscious
,
completely vegan backpack
, and look manly and sharp as hell. 
Focused Space 
offers us a slim and discrete canvas and vegan leather backpack with multiple front pockets and rugged metallic zipper pulls. It has small pockets on the front have hidden zippers for a slick and classy look and an interior zippered pocket to keep your most precious every day carry items. This vegan backpack has
adjustable shoulder straps 
for your comfort, along with separate
padded laptop and tablet compartments 
spacious enough to hold the largest portable electronics you own.
Buy it here.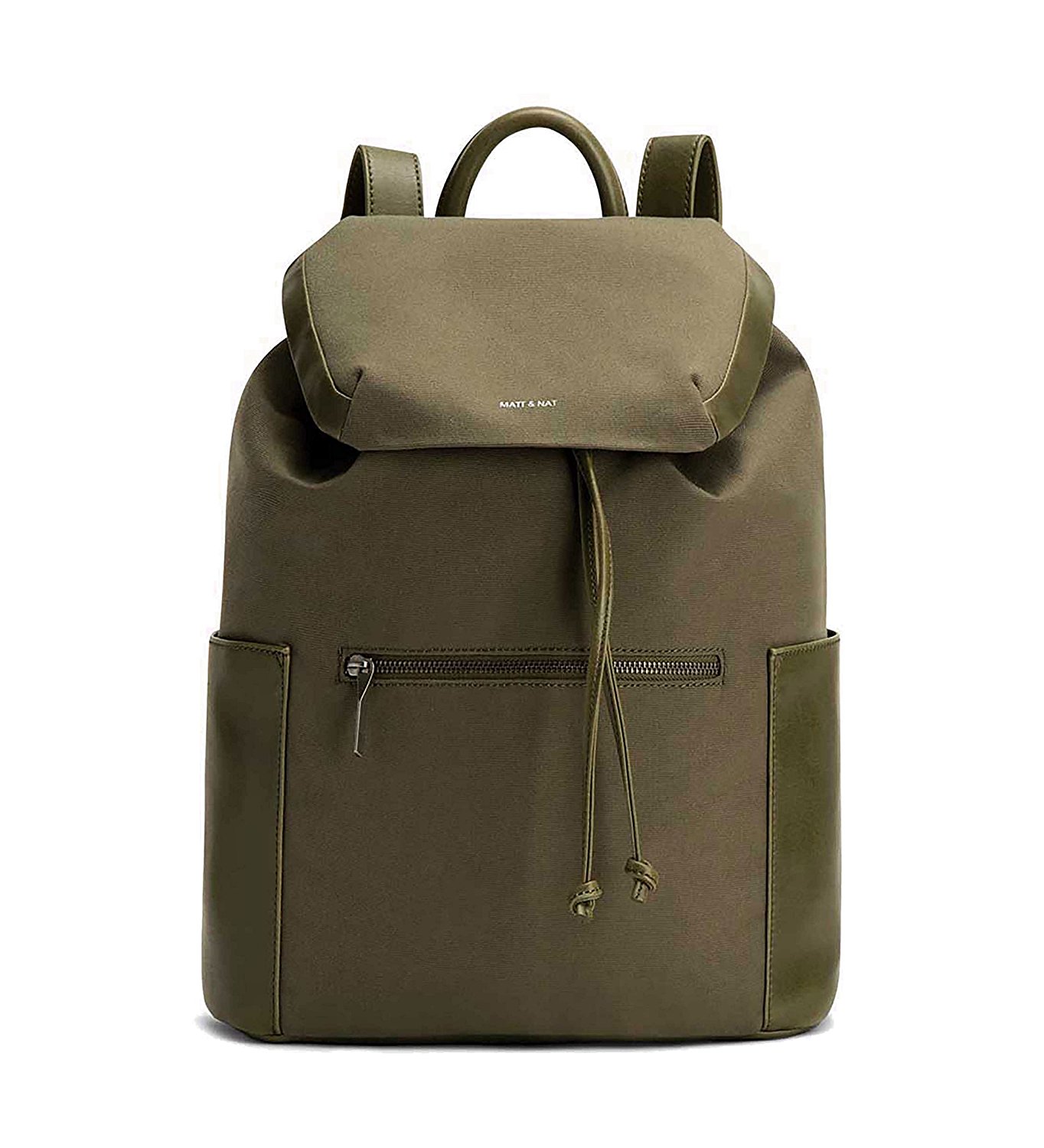 Matt & Nat is a Canadian-based company that offers all-vegan accessories for men and woman alike. This backpack is made from canvas and 100% recycled nylon for the lining. It's adjustable straps allow you to resize it for your back's optimal comfort. It has a rather large front zippered pocket and two slit pockets on the sides to keep a bottle of water at your hand's reach at all times. Once you open the front flap which is attached with velcro, you will see be met with a drawstring closure. The bag comfortably fits a 13″ laptop. On the interior you will find three patch pockets, a zipper pocket and a smartphone pocket. All-in-all, this is a very nice olive-colored backpack.

This 100% nylon backpack from Incase has a very classic and appealing design. With just the right amount of pockets and compartments, you will be able to stuff all you need in this very spacious backpack. The interior compartments are padded for the added security for your electronics, such as your smartphone, e-reader or laptop. The fully customizable length of the padded shoulder straps with multiple adjustment points provide a stable support for your back at all times. Buy it here.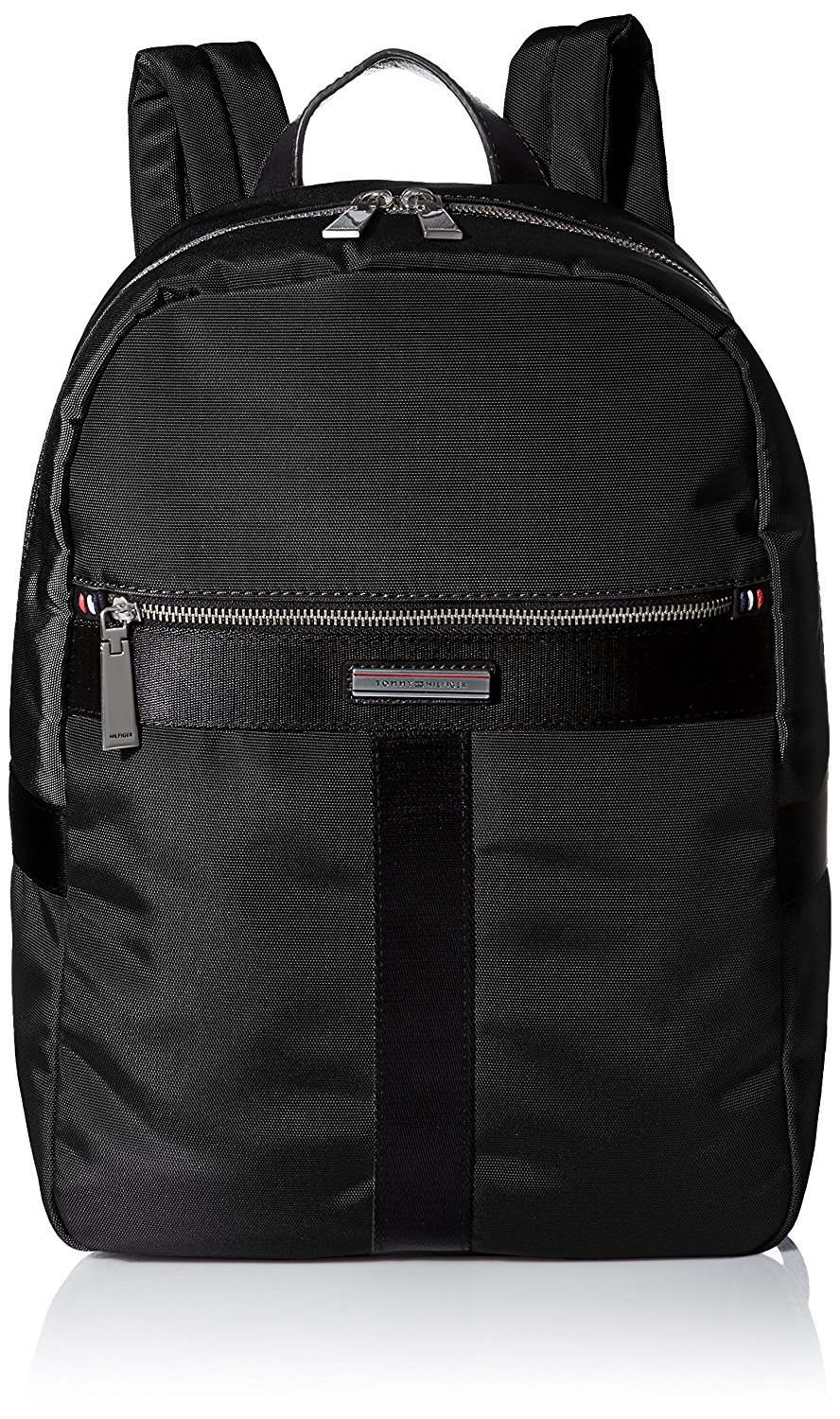 Made from 100% man-made materials, this classy and understated backpack is very sturdy, as it uses thicker nylon. Its interior is lined with fabric and the bottom is reinforced with a firm yet flexible panel to add to the backpack's structural integrity. The rounded form of the bag allows a more efficient use of its space. This is a very simple backpack, without the dozens of often unnecessary minuscule compartments. On the outside, there is a single large zippered compartment. On the inside, it offers a laptop pocket and two additional pockets, along with another zippered compartment. This bag, while its very simple, has a premium feel to it, and is very elegant to bring everywhere. The best design a vegan man can ask for. Buy it here.

Another Incase backpack, and this one comes in an understated heather gray. This backpack has a great structural build and quality, a favorite amongst consumers. It can fit up to a large 17″ laptop easily while remaining compact and user friendly. A handle on the side can be used to carry it as a briefcase. The zippers are sturdy and feel strong as hell, you can seriously feel like thought has been put into it. You can tighten the latches to make it extremely compact while still being able to carry a whole lot of stuff because of its internal capacity. You will certainly not regret this buy, it's an excellent backpack for the vegan gentleman. Buy it here.

Made from 100% polyester, this backpack from the ubiquitous Herschel Supply Company provides us with a professional-looking vegan backpack for the most respectable ethically-inclined and eco-responsible gentlemen. This sleek and simple solution for your storage on the go is the perfect everyday carry on a plane while travelling, and even on public transport while commuting. It has no interior pockets whatsoever, so if that's your thing, you should reconsider this bag. Otherwise, this no-frills backpack can hold an impressive amount of items. You will certainly not be disappointed by this simple, yet elegant bag. Buy it here.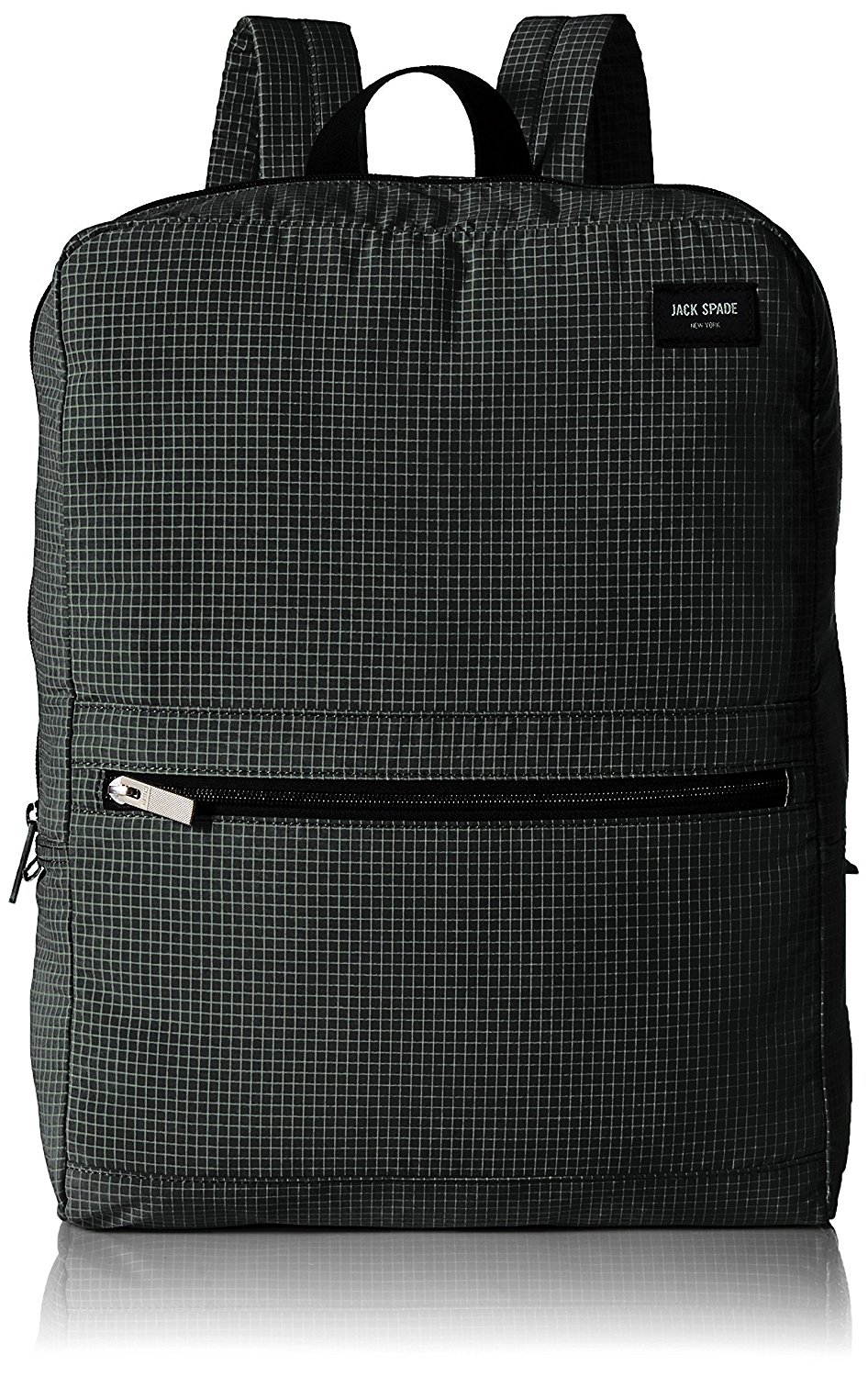 Last but not least, this backpack from Jack Spade is one of the rare water-resistant backpacks on the market which is also vegan. Completely made from nylon, on the inside and outside, this checkered beast features a large zipper pocket on its front and adjustable shoulder straps. Extremely lightweight, this backpack will feel like it's floating on your back. A stylish choice for the self-respected vegan man. Offered in three colors, blue, black and gray, make sure to take a look at them, they're as great as this one. Buy it here.